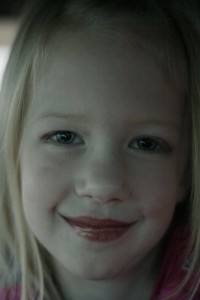 Today is "Autism Awareness Day."
For some reason as I heard the words in my head this morning I immediately became amused.  I understand that it's about spreading awareness of autism, but I could only laugh and think But I'm aware of it EVERY day.
This is our face of autism.  Those gorgeous ice blue eyes.  The smile that has found its way to her face somehow. The personality that is growing every day.
Most would call us blessed, and we agree.  Molly's form of autism is mild enough that she will likely lead a "normal" life. A job, a family, all that a parent imagines for their child. That doesn't mean she won't struggle. That every day one quirk or another won't rear its head to impede what would normally be an easy step into a careful shuffle of feet.
The little reminders that pop up.
The way she organizes her M&M's by colors in a snakelike form before eating.
The way she delicately nibbles, trying not to let the grease or crumbs of food touch her lips or outside of her mouth.
The way we cannot break our established program or routine without a meltdown.
The way her hugs are strong but brief, no lingering touches or snuggles.
The way you see her mind processing and learning everything she cannot express verbally.
Leaps and bounds of progress have shaped our lives these past few years, a sparkling personality is emerging from behind the walls. A girl that wants to be a model. A girl that's amazing at math and science.
With those she trusts she is bubbling and bright, even bossy…but the meltdowns still linger.
We are blessed.
All parents are blessed.
I hope today your awareness expands, but shouldn't it every day?