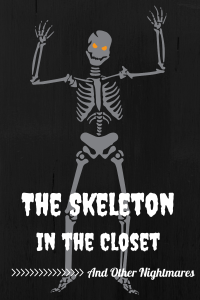 I'm not prone to nightmares.
I'm prone to strange dreams, colorful dreams, and sometimes insanely happy dreams. At least, the ones I remember.
So when I have nightmares they tend to stick out. Like a few years ago Erik was watching Friday the 13th as I fell asleep and that set off a nightmare about zombies chasing me. I wasn't even watching the movie, just the music lulling me to sleep set off that nightmare.
Oh, and did I mention all the zombies were movie stars?
Yeah.
*~*
The first nightmare I ever had has been talked about here – you know, I was young enough to be in a crib, but remember the nightmare of tearing up my favorite book.
Yes. My first nightmare was about tearing up a book. Telling, I know.
*~*
At the tender age for four I scared the living daylights out of my dad (or rather, my whole family) early one Sunday morning by screaming bloody  murder.
The dream?
I was being chased down by a hive full of angry bees. To my recollection the dream was rather like a cartoon, but at that age, it didn't matter – it scared the bejeebus out of me.
*~*
At six it was my closet.
See, in the house I grew up in I had a fabulous closet. So big I could lie down in the bottom of it with room to spare. I made pop tab bracelets and necklaces sitting in that closet, made it a clubhouse with my friend Beth from across the street.
That all stopped the night of the dream.
A skeleton was in my closet. A moving, creeping, freaky skeleton.
To this day I don't like sleeping with doors open. It still freaks me out that bad.
*~*
What about you?  Do you have any nightmares you remember? Are you plagued by them regularly? Or are you like me, and they only randomly arise and stick in your memory?