I can't predict how many posts this is going to take over the next few months, so I'm not even going to try. Instead, I'm just going to let our story unfold. Some posts will be on one moment in time, a brief ten or twenty moments in time that impacted us too deeply to be buried with the other notes of our story.
The story of how we ended up where we did was both long and then very short. Short of it is after not being approved two years ago we were contacted by Make-A-Wish in April, saying that Kennedy and Denver could both qualify now and to call them. After that it was a heartbeat later that the Wish volunteers were sitting in our living room getting the kids wishes.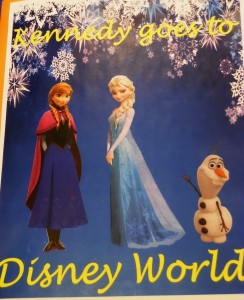 Kennedy wished for Disney/Universal.
I don't think any of us was prepared for the amazing that followed.
The first step toward our trip involved a party. We got to invite some friends and met at a local restaurant.
All three of the kids were treated to Disney delights. No child was left out in the preparations, and they all got gifts.
The biggest one of all was, of course, for Kennedy. That big giant package was an elaborate Princess Anna costume for Kennedy (pictures to come in another post).
We were able to sit and relax with friends, while the kids played with the bevy of toys they were given. The volunteers went over many things that my head couldn't wrap around, and as I've said several times, we had no idea what we were in store for.
The party went on for several hours, and then we all went home. Kennedy was an ecstatic mess, and even though we still had a couple of weeks before we left, the impatience for the trip was mounting.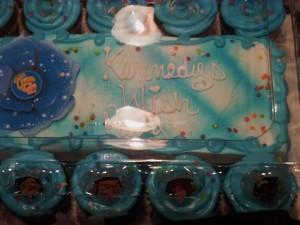 Of course, the kids were bouncing off the walls, and so was I, but I was also packing and planning and stressing (Oh but I didn't need to…). Oh, and planning and packing and stressing a little more. Talking to other people I knew that had done Disney through Make-A-Wish who had glowing reports just like I do now after the fact.
And so…we prepared to go. Left the dog with my parents, my hard drive w/ a neighbor for protection, got the fridge emptied and the laundry done.
We were ready to take off!
(Part 2 soon!)