My relationship with my family has had its ups and downs.  In the most recent years its been strained, to say the least.
Two years ago(ish), I cut off all contact with my brother.
All of it.
No holidays. No visits. No phone calls.
I was done.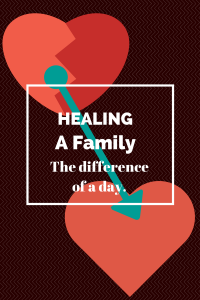 No nephew time (and I adore my nephews).
No sis-in-law time.
Because I was hurt. The hurt was inflicted during a time I was very scared, and so it was magnified into a great pain.
One I haven't fully recovered from, mostly because it has not been dealt with. I haven't told my brother why.
But several weeks ago a crisis arose.
My dad's Parkinson's took a left turn and the world sort of turned on its head for all of us.
It brought us all together again.  My brother, my parents and I all sat under the same roof to deal with the situation and where to go next.
Sometimes it takes a crisis to get over your own stubbornness, your own pride, your own pain.  In those moments, all of that is forgotten in the adrenaline rush, the fear, and the chaos. Those are the rough moments, but they're also the moments of clarity. The moments when what's really important comes out.
Suddenly we are talking. Phone calls are being made. Family outings are being planned.
We're taking baby steps, and I still have to sit down with my brother and explain how the rift started, how I was hurt. Our lives have been too chaotic for a good heart-to-heart.
But we're making pathways.
Moving forward.
I feel a long-taut string loosening. One I hadn't realized was stretched so thin.
Maybe someday soon the family will be whole again.
*~*
Written for Things I can't Say's Pour Your Heart Out