As a Pinterest junkie, I started this challenge a while back to make myself do more pins. Then life went berzerker and I ran out of time for anything. With my new job settling down, I decided to dive back in. Luckily my first challenge was actually done a while ago, so I'll be doing this partly from memory, but at least I was prepared.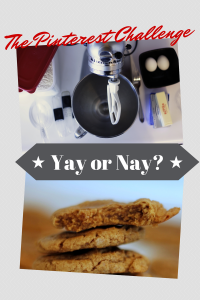 For this challenge I settled on this pin, Softbatch Cookie Butter Brown Sugar Cookies, by Averie Cooks (I have pinned a TON of cookies from this site in all honesty…these just happened to be the first I chose.)
I'm not going to post the recipe, because it's not mine, but you can do directly to it HERE.
I had to make some modifications, not in the ingredients, but in the size. The recipe calls for a 2Tbs cookie scoop, I only had a 1Tbs scoop.  So I followed the same directions, but cooked for less time (5 minutes, I believe).
The cookies came out perfect, just like pictured on the site. They were fluffy and soft and a rich brown in color. The smell was incredible.
I didn't even wait for them to cool down before I dove in for the first taste.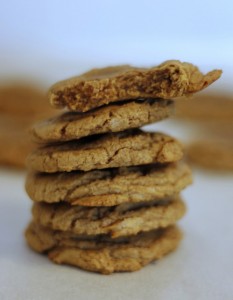 Everything promised by Averie was spot on. Light, soft, flavorful.  They were so good I didn't want to share…
But alas, I have a sixteen year old that found them just as good as I did.
Oh, and a husband that likes to find my "hidden" treats…
And so they were gone way too fast.
So clearly, the final verdict on this pin was a YAY! I plan on making these again–after I get through the full list of cookies on the Averie Cooks site. I'm sure you'll see a few more of these in the pinterest challenges.
Again, the recipe isn't mine, go visit Averie Cooks to get it. You will not regret it.