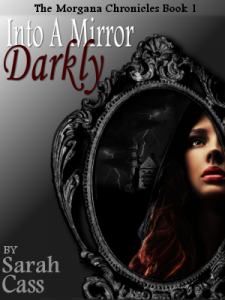 Time for another Hump Day hook!  I worked up a mock-up cover for Mirror Darkly this past week.  I do have such fun with these.  So, since I'd played with the cover, I thought I'd use it for HDH.
Of course, it helps that I started my 500K Challenge and so have been working on this one again!
And now, without further ado, an exchange between Rose Red, the bounty hunter & Wulfric, the great hunter:
"I'm sorry.  Did you say you called Queen Melisandra, the vilest of Morgana's queens, Mellie?"

"Should have seen her. I thought she was going to breath fire." Green eyes twinkled to match his laughter as he tugged her stiff body closer to him.  "Solange heard about it and came to get me out. That's why I owe her."

"Solange had to get you out?"

"Apparently I'm not charming."

"And you're no prince." Red's lips twitched in her efforts to hide the laughter bursting up from her belly.  In a last ditch attempt she snatched the lower lip between her teeth and tried to keep her glare in check.
Hump Day Hook asks authors to post one paragraph of one of their stories, whether a WIP, one contracted, or already published.  Please visit and comment on the participants – you might just stumble on the next great read for your library!  To see more participants, click on the HDH banner below: