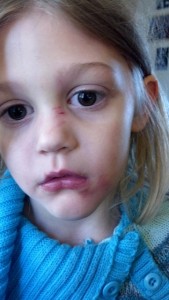 Be on the lookout for a wicked evil bathroom stall door.
Color – gray.
Height – about 5'6″
Distinguishing features – a metal locking closure, and nasty auto-swinging hinges that rush it back in your face.
The crime – disrupting the simple doe-eyed beauty of my youngest's face.
Poor Kennedy.
The only thing she did wrong was be born a Mini-me…right down to the klutzy instincts.