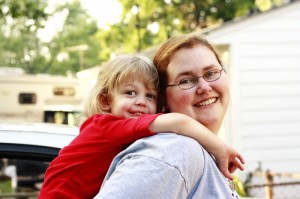 Nine years ago my life was different. (Sort of) newly married, only one young son at home. I had no blog, but I did have an online existence.
In one of those (now defunct) online locales I met a girl that went by Vilanaa. We talked some, but we weren't close. Then one day she emailed me to give me a file that the internet (and my stupidity) had eaten…and from that moment on we became fast friends.
I quickly learned her real name was Jess.  We bonded fast over many similar experiences and laughed over the same jokes.
For several years we shared our lives through the internet & phone. Never meeting, but she was there for everything. The first person my husband called when I went into the hospital for the girls, for my gall bladder.  I became the person she called for everything, joy to crisis.  We watched each others kids grow up through pictures.
We finally met several years ago when I went out to meet her.  Upon arrival I 'forgot' my kids in the car and rushed into a tight hug that lasted five minutes while Denver got the girls unpacked and met her boys. Many tears of joy were shed.
A year an a half ago she returned the favor by driving out here for my birthday. She was present for my first tattoo and my husband finally got to know the person behind the voice.
She is my best friend. Our friendship is amazing and strong and amazing again.
But she lives so far away.  Without the invention of the transporter I can't be there when she's in true crisis.  I have to be content with knowing she has a support system that is helping.  I have to be content to be on the other end of the phone to remind her to breathe when she calls me in tears.
Last month I went out with two wonderful and amazing Indy friends of mine, Casey and Shireen.  These two women are best friends like Jess and I, but they live in the same town(ish). They are able to see each other at least twice a month (most times) – but at the end of the evening they embraced in a tight hug that lasted several minutes.  Both apologized to me, saying it sometimes makes people uncomfortable.
I told them don't apologize ever for that sort of closeness.  That if my BFF were here I'd hug her the same way every time.  We all need the bear-hug friend…whether they are five minutes away, an hour away, or 12 hours away.
Treasure your bear hug friend and hug them as often as you can.
Because this 12-hours away crap?  It sucks when your best friend needs you.
Now who can get those scientists to finish up the transporters ASAP for me? I've got to get a bear hug.