Today I'm happy to begin welcoming authors more frequently to the blog! I'm thrilled to start this process with fellow SCP author, Carolyn Wren, to announce her book release! Check out the end of the post to learn how YOU can win a PDF copy of The Scientist.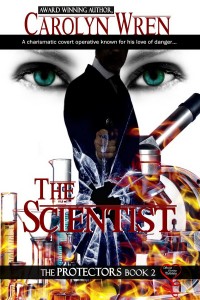 The Protectors
The Scientist is Book 2 in the 7 part Romantic Suspense series, The Protectors.
The books tell the tales of a group of covert agents who form a Protection Agency. Each story is designed to be different, as reflects the personality of the lead characters. We have Jared Knight in Book 1. Quiet, calm, preferring to remain inconspicuous when possible. In Book 2 we have Simon Winters, completely the opposite. Outrageous, cheeky, flamboyant. The other books will all have a different tone, from light and fast paced, to dark and emotional. Hopefully they build into an interesting, entertaining series for my readers.
The Scientist.

A charismatic covert operative known for his love of danger…
Simon Winters has a reputation for undertaking adrenalin filled assignments. But even thrill seekers need some down time. After an arduous desert mission he asks for a more enjoyable assignment. Preferably involving a beautiful woman in peril and a fast car.
Dr. Elizabeth Barrett's life is quiet and orderly until someone tries to burn down her research laboratory with her inside. Now she has to contend with a handsome flirtatious agent living in her home. With his designer clothing and cheeky attitude, he has an annoying habit of putting her in more perilous situations than he keeps her out of.
Simon is captivated and intrigued by his beautiful scientist with her red hair and hidden fiery temper. But the danger escalates and what begins as a straightforward mission turns deadly when it seems someone wants Beth and her research dead.
Excerpt.
"Time to get ready."

Beth lifted her head and blinked. "Already?"

"Yes, it's past five. You don't want to be late for the ceremony."

"Do we really have to go?"

"Yes, my little reluctant celebrity, we really have to go. What's the award for again? Apart from mold?"

"A young achievers award for a scientific research paper on the positive properties of bacteria." He leaned forward and placed a kiss on her forehead. "See? It's special. Okay, it's gross, but special. Go and get ready."

Beth wandered into the bathroom. Why does his touch always linger so much on my skin?

After putting on her usual light application of makeup, she dubiously held up the turquoise dress in front of herself in the bedroom mirror. Halter neck, the front and back seemed very low. It fell in layers of soft silk and would come to just above her knees. Laying the designer garment on the bed, she picked out two pairs of shoes and surveyed them both. Which ones? Beth had no idea.

Hearing a sound from the hall, she opened the door. "Simon, what do you think…?" The words dried up in her mouth. Broad shoulders and muscular arms filled her vision. The blond curls held droplets of water from his shower. The sprinkling of hair across his chest was also damp, and the towel draped over his hips did little to conceal the divine specimen of gorgeous almost-naked male standing in front of her.

"Sitting?"

Beth yanked her brain back into focus. He was talking to her."You want me to sit?"

Simon waved the shoes in front of her face, having plucked them from her fingers without her even realizing. "I asked if we would be sitting. Isn't it a cocktail party? Or are we sitting for dinner?"

"Cocktail party, I think, but why is that important?"

"These," he held up the high heeled strappy black sandals, "are sitting shoes. These," he jiggled the mid-heeled silver-gray plainer ones, "are standing shoes. How much do you want your feet to ache?"

"Not at all, preferably."

"Good choice. Wear the gray. The dress has silver highlights. It will blend." With that, he handed the two items back to her and continued along the corridor. Beth tried not to notice how the towel sat low across his back, just above muscular buttocks. I need bigger towels.

A discreet cough made her gaze fly upward to meet his amused grin as he peeked over his shoulder. "Are you staring at my backside, Dr. Barrett?"

"No, of course not." Her denial was too loud, too husky. Feeling yet another stain of heat across her cheeks, she ducked back into her bedroom and wrenched the door closed.
***
Bio
I was born in England. My parents loved to travel as my dad spent many years in the navy. By the time I reached the age of 12 we had traveled pretty much around the world on cruise ships.
This sounds fun and exciting unless like me you can get sea sick sitting in a bathtub. Lets just say boats do not feature highly in my books.
I still love to travel, but I use planes. All of my life I have written stories in my head. I would rewrite and add characters to TV shows, edit and change novels I was reading, invent scenarios and scenes to amuse myself on long journeys. But strangely I never wrote any of them down. About three years ago I woke up with a scene so clear in my head I knew I had to put it down on paper. Now, what should I do with this one page of prose? I know, I will email it to some friends. The friends approved, in fact they asked what book it was from. I shyly admitted it was my own work and the reaction was immediate…please write the next bit! I did and I have not stopped writing since.
Links
Blog: www.carolynwrenauthor.wordpress.com
Website:  www.carolynwren.com
Facebook: www.facebook.com/carolynwrenauthor
Book 1: The Diplomat's Daughter
Book 2: The Scientist
*~*~*
Carolyn is going to give away a PDF copy of The Scientist to one lucky commenter!!  So make sure you say hi, congratulations, or ask any questions you might have! It could win you a copy!
Thanks so much for visiting, Carolyn!  Good luck with your release, and I look forward to seeing you again soon!