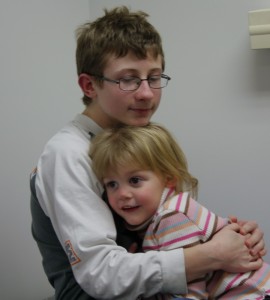 Cystic Fibrosis.
The word hit me like a ton of bricks the first time Dr. A used it to refer to Kennedy.
My only experience and knowledge of the word harkened back to the TV show "Touched by an Angel." The special 100th espisode "Psalm 151″ that had guest stars Wynonna Judd (as the mom) and Celine Dion (as herself).
An 11 year old boy with Cystic Fibrosis that knows he doesn't have much time left. He has a 'list' of items to complete…the final one being "Go to heaven."
In the episode we saw a young child with the disease. We saw examples of chest percussions being performed (done by hand, not vest).
We saw an 11 year old die.
With that as your only experience, and a doctor telling you, "Don' research on the internet, the stories will terrify you, let me talk to you first"…you sort of get a little freaked out.
Okay, you get a lot freaked out.
Dr. A's reassurances that the diagnosis doesn't mean what it did as many as 10 years ago did little to help my nerves.
Only living it has eased my sense of panic.
Seeing my kids live normal lives.
Is the worry still there?
Do I have a little heart attack at every high fever? At every cough?
Yup.
But with two kids living with it, and living well…suddenly having a bucket list at 11 doesn't seem like quite as much of a possibility.
You just may have to remind me of that next time we're in the hospital.
Deal?