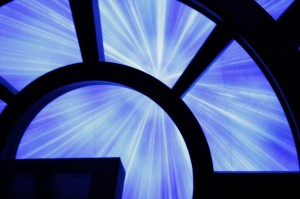 I make no secret of my geek status.
I wear it proudly.
What makes me even more proud is when my kids show their geek.
Begging for movies that only proud geeks would watch instead of yet another re-watching of an animated story.
So when I got wind of the Indiana State Museum's Star Wars®: Where Science Meets Imagination exhibit?  I knew we had to go.
And thanks to this awesome job I have…I got to go to a special preview of the Millennium Falcon ride with the great group of local bloggers I've been privileged to be a part of.
And?
It.  Was. Awesome!! 
The 4-D effect of the ride, sitting in he cockpit and feeling the ship jump into lightspeed and rock and bump, the shock of space objects crossing close by. was amazing.
On top of that, we had storm troopers and sand people to help take the experience to the next level.
In just a few weeks this incredible exhibit is going to open for real, and I cannot wait to take my kids! It's just one of those rare activities that is great for both adults and kids.  There are definitely not enough of those around, we tend to try to soak them all up.
[flickr id="8718669186" thumbnail="medium" overlay="true" size="medium" group="" align="center"]
[flickr id="8718670730" thumbnail="medium" overlay="true" size="medium" group="" align="center"]
[flickr id="8718670990" thumbnail="medium" overlay="true" size="medium" group="" align="center"]
[flickr id="8718671416" thumbnail="medium" overlay="true" size="medium" group="" align="center"]
[flickr id="8709762954" thumbnail="medium" overlay="true" size="medium" group="" align="center"]
[flickr id="8708641117" thumbnail="medium" overlay="true" size="medium" group="" align="center"]
[flickr id="8709767394" thumbnail="medium" overlay="true" size="medium" group="" align="center"]