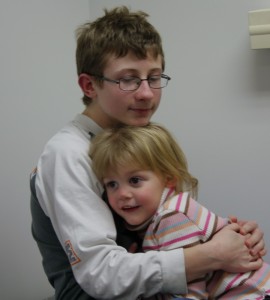 It starts early.
Actually, the night before in a way.
As the teen is put on a fast, and we all go to bed early.
Because we have to leave at 7AM to get to the hospital at 8AM.
So the teen can drink that sickeningly sweet glucose concoction.You know the one, the same one we drank when pregnant.
And then we wait.
For two hours.
For more blood to be drawn.
Then the girl gets her blood drawn – which holy hell it's like she's being murdered.
Then it's onto x-rays.
And functions.
And then we meet…
THE TEAM.
The social worker who hasn't got much to say, but comes in every year. Makes sure we aren't being killed by medicine costs. That we have all the 'help' we need.
The nutritionist that always tells us the kids are too skinny and to fatten them up. She gives us orders for calorie/fat boosting nutritional supplements.
The nurse that takes cultures and histories and makes sure all is clear.
The research associate that clues us in to new research projects we can partake in if we chose.
We break for lunch, and return and wait.
As our hospital is a teaching hospital we then see the Fellow.  Who talks to us, examines both kids and heads out.
Then the doctor. Who examines both kids, goes over x-rays and future plans.
This year we had a change from the patter as the teen is being prepared for his own care.  His exam was held in his own room where she went over the (still surprising to me) aspects of CF and how it could affect him and his future.  The things no teenager wants to talk about in front of their parent…I mean EW.
It's a full day.
Long.
Exhausting.
It ends with us grumpy.
Ready to get the heck out of there.
And grateful for another year.
It's called a "birthday visit".
A celebration of an anniversary i'd rather forget.
Kennedy's is June 11th.
Denver's is April 29th.
We meet them in the middle.
But in both cases, I'd rather forget that day.
The day we "knew" for sure.
Not celebrate it with a painful, long, exhausting day.
Although if we have to 'celebrate' such a 'birthday'.
What better way than in misery?