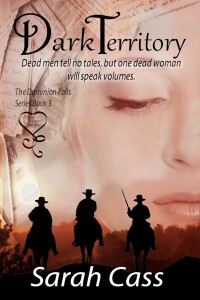 Another Hump Day Hook!
It's your first glimpse at the third (& final – for now) book in my Dominion Falls series! I'm in edits right now, and still haven't even revealed the blurb yet (because I'm evil that way)…but you're getting a glimpse now!
Here Kat, Jane's best friend, has gone to try to get answers from the town slime, Jackson Krenshaw…and finds something far worse than an egomaniac waiting on her:
"He didn't leave them." A voice colder than any Kat had ever heard spoke directly behind her. "I did."

She was afraid to move, and Jackson's pupil blown fear didn't help ease the rising panic. Her fingers flexed around the horseshoe. "Wh-who are you?"

"I have no name," the stranger replied.
*~*
Hump Day Hook asks authors to post one paragraph of one of their stories, whether a WIP, one contracted, or already published.  Please visit and comment on the participants – you might just stumble on the next great read for your library!  To see more participants, click on the HDH banner below: