Holiday cards are always a challenge for me. What to send, and remembering to send them…
This year, Minted is making at least part of the struggle so much easier. Their Holiday Gift Card selection is amazing! From the simplest of cards, to a selection of books that let you fill your friends and family on what your year was like, I can find everything I want.
I've spent the good part of the past 3 days searching through their options and have found some real winners.
The simplistic side of me loves this card, the Stringed Noel (also available in a vertical style).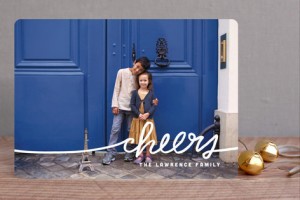 The simplicity of the design, coupled with one of my great photos of the kids (or rather, the girls, since the teen refuses pictures now), makes me happy.
Then again the cheeky reluctant Hoosier in me loves the "Y'all" on the Southern Accent design.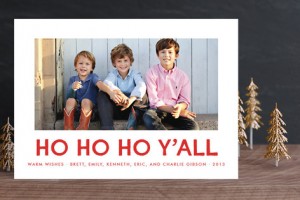 I mean, come on. So many of my old Yankee Buffalo friends tease me about losing my New York Accent. I'm not southern, but a twang slips in and I've been known to "Y'all" a time or two in my life…
But the ritzy girl in me, and the writer that would love to capture a story of our year, along with several pictures of all the kids, including the elusive teen…well, I might have dreams about the Gilded Year in Review Minibook.
The pages are so easy to edit using their personalization tools, my fingers are just itching to get a hold of my order and start. It's more pricey, but I don't have a tone of people to send them to, so I can make my order smaller…and have a ton of fun…Of course, this Winter Foliage minibook is more my color palette…shoot, did I say Minted.com was making this choice easier? Becuase I think it just got a lot harder…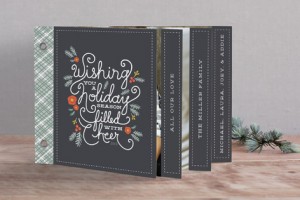 What do you think I should pick?
And what would you pick?  Why don't you head on over to Minted's Holiday Photo Cards page and tell me what YOU would pick!
***
*Disclosure: I was provided with a Gift Card for this review. All opinions and indecision are all my own.