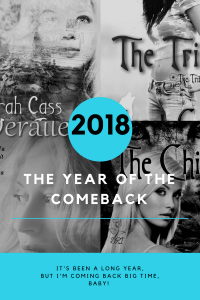 In 2017 I sort of unintentionally stepped back from publishing.
From writing.
From…everything.
But this coming year?
This coming year is the year of the comeback in a lot of ways for me.
Biggest of all, is my publishing goals.
In 2018 I'll be release nine books in total.
Three of those will be original, never before seen books. One in a brand new series, a new book in the Tribe series, and a new book in the Dominion Falls series.
Six will be the brand-spanking new revisions of the Dominion Falls series under my own imprint, and in print as well as ebook.
The final release will be the first time I re-release my standalone Historical Western Romance, Masked Hearts.
I have so much to do to get them all ready. It's an exciting time, and an overwhelming time.
It's time to buckle down…because it feels really good to be back in the world of words.
Come join me…it's a fun place to be.
January 15th will be your chance for the new books.
If you haven't checked me out yet…take a gander at MY AMAZON PAGE.