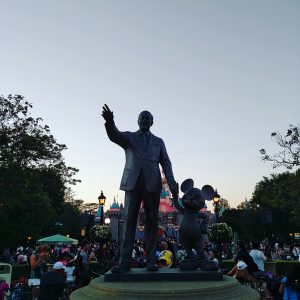 A few months ago I updated my former 45X45 list to become a 50X50 list. Since I first put it out, I've managed to check at least one more item off the list, and we're about to head into a new year, so I thought it would be a good time to go over it, make sure I still want to do them all, and set myself a goal to finish at least one, if not two next year…
Think I can do it? Some of these are kinda crazy-pants.
50 X 50
Take a real vacation. (Not to Buffalo, not w/ the kids) (Done 4/23/12)

Take my kids to Disney World. 

(Done, thanks to Make-A-Wish 10/28/14)

See my name in print (get published, e-zine, paper-zine). (Done 6/24/12 – Sirens Call June 2012 Issue)
Have a novel published. (Done 2/8/13 – Changing Tracks & 17 more times [so far] by 7/18/15)
Get my Dominion Falls books series in front of a producer.
Completely tidy my house.

Take a photography class (or 2 or 3)

Perform on stage again (done 12/4/15 – Violet Grey in A Charlie Brown Christmas)

See Colorado

Camp – really camp in the Rockies

See Yellowstone

Go skydiving. [Yes, I feel slightly insane here]

Go to a blogger's conference

. (done 4/23/12)

Sit at a book signing/author's conference.

Get on a regular exercise regime & stay on it for more than 3 months.

Hand craft (knit, sew) 1 item for ME for a change

.

 (DONE 4/1/12)

Make a complete Victorian era dress from skin out. (underthings complete, corset 50% complete)

Get some crazy color in my hair (purple, blue, pink highlites/streaks) Done 2/11/12

Read the Harry Potter series aloud to my girls

. (2/3 of the way through by 8/4/17)

Sing Karaoke 

Get up close with the wolves & photograph them at Wolf Park.

Move to Florida.

Pay off debt.

Get a car that is less than 2 years old

Run a 5k

. Done 9/22/12 

Do something daring (paragliding, zipline, etc.)

 Done 7/14/12
Learn sign language.

Go on a road trip with a girlfriend

Go on a hot air balloon ride

See Cirque du Soleil 

(Done 6/27/2012)
Ride a horse – not a trail horse. A real ride on a horse.
Volunteer
Stop drinking pop
Visit Disneyland (Done 5/2/17)

Get a tattoo

 (Done 7/16/11)
Go on a Cruise [preferably Alaskan, but I'm not picky]

Go on a wine tasting

 (Done 10/16/10)
Get a Henna tattoo
Take my husband to swim with sharks
Fly first class
Read at least 50 of the 100 Greatest Novels (I am saying the book can be from either of the 2 lists there. In total I have read 8/50 at this point)
Have a real spa day (Done, thanks to Hubs, 7/2014)
Visit a real haunted location (Done 7/16/16)
Sell a photo
Visit Salem, MA
Visit both US based Disney Parks in one year. (Done 9/4/17)
See a solar eclipse. (Done 8/21/17)
Have one of my pictures on the Indianapolis Zoo website.
Go through a sweat lodge ceremony.
The newly done items for this year were:  Visit both US based Disney Parks in one year, and See a Solar Eclipse.  Both were done in the past couple of months, and were awesome.
Now for 2018, I want to knock off at least two of them.  One I know for sure I'll be doing is to be sitting at a book signing/author's conference.  This is happening in March for sure, and I'm super excited.  I'm hoping, maybe, that I can do the first class flight, too…if I can bump up my ticket to the conference I do every year.
Oooh, maybe I can find a place to do a sweat lodge. That would be awesome.  What do you think?  Which should I choose?  Or is there something you think I need to add to the list that isn't there? I'm super open to suggestions. I like having a mix of "way out there" hopes, and some more do-able.  I'd even be willing to bump it up to a higher number to add items in.  😀