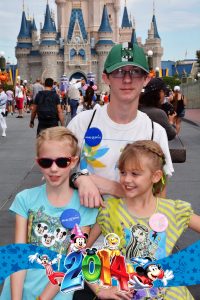 To have heard Denver tell it way back in 2014, Kennedy made a "stupid" wish.
How could he, a 16 year old, ever expect to have fun at Disney World?
This picture he almost appears to be smiling, but he wasn't. 1, because he hates pictures, and 2, because we were at Disney.
Can I tell you how much magic Disney World holds?
It holds enough to take a teen so dead-set against going to Disney, and in three little days turning him into a die-hard Disney fan.
It turned him so quickly and completely that he wanted to change his wish, but didn't think he could. We were all slightly giddy when his original wish fell through and we were able to return – because of course the teen picked Disney for his second wish.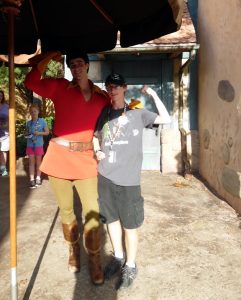 From that point on, all Denver has wanted is to move to Florida and work for the mouse.
A week ago today, his dream came true.
Denver is moving to Florida. He'll be working for Disney – and you'll be able to find him at Pecos Bill's Tall Tale Inn and Cafe.
From a Make-A-Wish kid…into a Disney Cast Member.
Living proof that dreams can come true.
(And let's not talk about the fact that the next day as he was on the phone with Disney, Give Kids the World Village also called to request an interview for a job there, as well)
I'm so excited for him, it's easy to hold off the tears (mostly).
He is the inspiration to all of us in this house that we can achieve our dreams.
I can't wait to follow the kid to the land of sunshine and magic.
For now, I'll rest happy knowing one of us made it out of the land of winter.
And look forward to visiting him as often as humanly possible.