Around 18 years ago, I was a young single mom. I worked, I cared for my kid, I had no social life.
Right around that time I got into the internet. And I mean OG internet. AOL login and chat. Old school all the way.
At the time I happened to also be obsessed with the musical CATS. Seriously. I went and saw it about 11 times on Broadway before it closed when I lived in Maryland for a couple of years.
Those two things came together, and I found myself on a forum for musical lovers (musicals.net I think it's still there, maybe?), and in their CATs forum some of the actors participated (how I got to meet them), and many, many fans.  There were even a couple of RPG's (yup) that I was involved in.
In this crazy world, I found Heather.  We met in an RPG, and on the forums.  She was funny, a little bit bonkers, a lot dramatic, and we formed an instant friendship.  Our characters interacted in the RPG, we talked on the forum, and then we began to chat outside of the forum.  We talked on the phone, sent actual letters in the mail (I know, RIGHT?).  We never met.
A few years later, I had moved, she had moved, I was being stubborn about not joining Facebook (seriously, I held off for YEARS).  We sort of lost touch, but I was always aware in the periphery. We'd find each other on twitter, or through email and a general "how are you?" type of communication. Then I finally joined Facebook and we reconnected…again, on a periphery.
Every time we'd chat it would be like no time had passed at all. She went on grand adventures. Moved to NYC to try her hand at Broadway. Appeared in movies (she can be seen in Bedtime Stories). Worked on cruise ships, Moved to Australia to be a nanny. I became a wife. I became a mom (again. and again).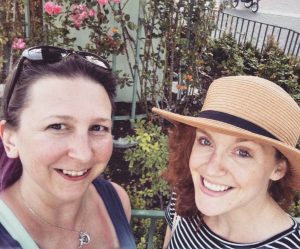 Then, finally, this year I managed to find my way to Anaheim for the first time ever, right near where she happened to live. I knew this well in advance of it happening (like over a year) and started nudging her that we needed to FINALLY meet.
So, after 18 years we finally met. In person.
It was so amazing.
Turns out that despite our age difference (did I mention we're like 8 years apart?), we had a ton in common.
We met at Disneyland, because that is what you do when you're in Anaheim with free passes, and pretty much everyone in SoCal has annual passes (seriously. I've never been asked so often if I was an annual passholder on any other Disney trip. It IS a thing…but I'm digressing here.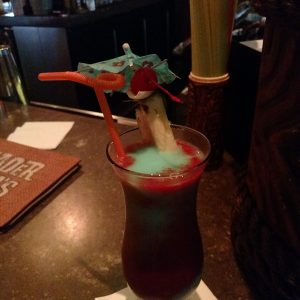 Waiting nearly 20 years after our first online meeting meant that when we met, we could drink.
At Disney.
Drink.
Sure, I mean, we're not animals. Our morning was spent riding rides, walking around the park while she told me some really cool facts and history about different parts of the park.
We found out that we are basically the same person leading two crazily different lives. She told me about the TV show she'd been working on (which I've now seen..it's The Orville, BTW. She's one of the medical officers, an alien. I've seen her. Several times. Yup.).  About her auditions at Universal (which she got hired for).
We talked for hours, walked the parks, rode favorite rides like Pirates and Haunted Mansion.  The conversation never slowed or felt awkward.
I swear, it felt like we'd just seen each other last week, when we'd never met ever.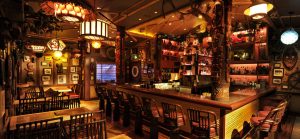 Then, she knew "just the right place" to head…Trader Sam's Enchanted Tiki Bar.
We found something we didn't have in common…liquor. I like the fruity stuff (like the Piranha Pool shown above)…she goes for the kick you in the balls hard liquor.
Still, that didn't stop us from ponying right up to that bar and chatting away, downing several drinks before we went back to the parks and spent the rest of the day.
It's funny…once upon a time, Erik used to call the people I knew on the internet my "fake friends".  He didn't get it.  He didn't understand how I could form a bond with people like you, who I interacted with.  Even thought I'd met several in person. Had them come to my house, be in my wedding, I'd gone on trips with them to NYC, to Florida.  One of them (a former Cats cast member) worked at Disney World and went with me to an audition…for Cats (as moral support, not to audition himself).
Now, I didn't connect with everyone this way…but people like Heather?  I'll definitely meet them when I can.  They are real. You are real.  And though the connection may start out virtual…sometimes you just know…and when you meet, you know instantly why you knew.