*This post is sponsored by Phoenix Trading Company. I was given an air fryer in exchange for an honest review. All thoughts are my own.*
In the world of home appliances, I have both too many, and too few. Recently I got a new kitchen appliance that has brought about some good.
See, we have had a bit of a problem in our marriage since day 1.
I LOVE fried food.
Erik hates it.
So some of my favorite meals, he only picks at. He doesn't like the grease, slime, general heaviness of fried anything.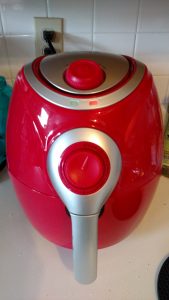 When I was approached to try out this Air Fryer, I jumped at the chance.
What better compromise could this nearly-14 years married couple make than air frying?
No greasy food, just pure taste. At least, that was the hope. Hubs wasn't so sure once he heard about it, and saw the thing.  But, I persisted.
I made the one meal I love to make often, and hubs has always liked the taste of, but not the frying.
Breaded lemon chicken (just call me Debra Barone).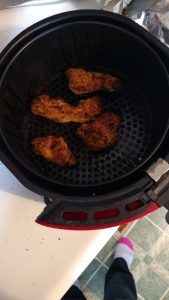 I did everything the same as I always did, but instead of fighting dropping it in a pan, I set it in a basket, spritzed it with some olive oil spray and slid it into the cooker. Ten minutes later, they were done.
Bonus points I didn't even think of?
I didn't have to worry about the chicken being cooked through in the middle. Normally in oil I either get the breading burned, and the inside isn't cooked…or vice versa. In the air fryer every single piece was perfection, from the thickest to the thinnest.
Oil burns be gone!  See, I have a bad habit of getting burned by everything I cook in oil or in its own grease (hello bacon, my delicious nemesis). Holy cow is it nice to be able to not worry about that. My hands, arms, and even my face are free from grease splatter.
If I was just cooking for one or two of us, I could have slipped our whole meal in one basket as their cooking time was the same. However, there were four of us, so I had to spread it out. Still, for a quick lunch, I'm all over this.
It's a smaller kitchen appliance that can either sit on your counter, or slip into a cabinet should you have a tiny kitchen with no counter space like me. 😉
Did I mention the no oil thing? A little spritz of olive oil instead of sitting in pools of oil will help keep me out of that plus size clothing 😉
My husband eats the food. Scarfed it down, actually.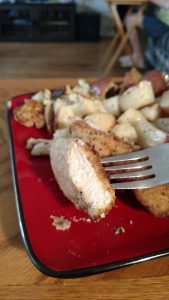 So we had a delicious meal. Perfectly cooked chicken, potatoes and cauliflower. A meal that everyone ate up, and turned out to be easy as pie.
Oooh, pie. That's something I should make next. Little mini pies in no time flat.
You in with me?  I can help you with that super easy.
Because I'm sharing a giveaway for a Todd English 1500W 3.3 qt Touchscreen Air Fryer w/ Filter & Accessories !!!
Seriously, you want in. Soon as I get that pie recipe done, I'll share it with you. I'm on it tonight.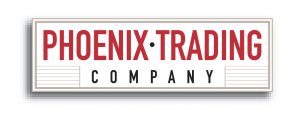 About Phoenix Trading Company (PTC):
First, we're not in Phoenix, Arizona. Never have been (we're in Boston). Our name refers to the
mythical bird, the Phoenix, which is reborn to soar again. Our clothes and other products are
sort of like that. We buy large volumes of out-of-season, overstock and clearance designer
merchandise from national retailers and TV shopping channels, then pass the savings to
you—on average offering our goods at 60% below retail. And by the way, the pictures of shoes
and clothing you see on our site are the actual items that you'll get in the mail. Nothing photo-
shopped here.
People seem to like us. We started in 2001 in 700 square feet subleased from a machine shop,
and have grown to be one of eBay's top three women's clothing sellers. We're also an eBay top-
rated plus seller. Not that we're bragging. It's just true.
There is something we're kind of proud of, though: A third of our workforce are people who are
housebound, either through physical disabilities or childcare responsibilities, and who would
otherwise not be able to have a job. And honestly, we couldn't function without them.
So, that's us in a nutshell. Phoenix Trading Company, bringing you style and savings at the click
of a mouse.
Social Media Links:
Facebook – https://www.facebook.com/PhoenixTradingCompany
Tumblr – http://phoenixtradingcompany.tumblr.com/
Pinterest – https://www.pinterest.com/phoenixtrading/