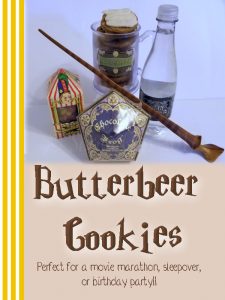 The past couple of years I've made Butterbeer fudge for Christmas to much acclaim among the family. It's a huge hit to this geeking family.
Then, a couple months ago when I was making cookies for the hubby, I started to wonder whether I could bake the deliciousness of Butterbeer into a cookie. I knew the basics, but wondered how I could add that flavor incorporated into a cookie.
My first test run was pretty successful, but for a few things.
So I played with it more, and came up with this recipe here.
Needless to say, I have another huge hit on my hands around this house.  I could hardly keep enough around to get some good pictures of it.
I'm not going to prattle on long, just let the recipe speak for itself. Enjoy!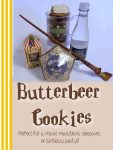 Butterbeer Cookies with Cream Soda Frosting
Ingredients
Cookie
1

Cup

Vanilla Chips

Rough chopped if desired

1

Cup

Butterscotch Chips

Rough Chopped if Desired

1

Cup

Coconut Oil

Softened. If it's hard, pop it in the microwave for a few seconds (5-8)

2

Cups

Dark Brown Sugar

2

Large

Eggs

4

Tbs

Vanilla Extract

Yes, that is tablespoons

2 1/2

Tbs

Unsulphered Molasses

More or less to taste. Use mild or medium, but not dark, that's too bitter

3 1/2

Cups

Flour

5

tsp

Corn Starch

2

tsp

Baking Soda
Frosting
1/2

Cup

Coconut Oil

Softened.

1

Tbs

Vanilla Extract

2

Tbs

Cream Soda Syrup

See instructions

4

Cups

Confectioners Sugar
Instructions
Prep Work
Make Cream Soda Syrup by placing a bottle of vanilla cream soda in sauce pan. Boil until reduced by at least half. I reduced it to 4 oz. Once reduced, place in refrigerator until ready to use.

If desired, roughly chop your chips. I did this because I wanted the flavor woven into the cookies more, but it does make them flatter. This is your choice.
Cookies
Mix together coconut oil and sugar.

Add vanilla and egg. Beat on med-high heat until light and fluffy.

Scrape down sides of bowl. Add molasses. Beat until incorporated.

Add flour, corn starch, baking soda, and mix until just combined.

Add chips. Mix in by hand.

Using 1 or 2 inch cookie scoop, scoop out dough onto cookie tray. I used a 1" because that's what I have, but 2" would be great, too. The cook time will be slightly longer.

Refrigerate dough for at least 2 hours, up to 3 days. This must be done to keep the cookies from spreading too much.

Pre-heat oven to 350. On parchment lined cookie tray, set out cookies about 2" apart. I managed to get 1 dozen on each sheet.

Bake 6-8 minutes for 1" cookies (7 minutes was spot on for me). For 2" cookies, 8-10 minutes should be good.

Cool. Add frosting if desired.
Frosting
Add coconut oil, vanilla, and syrup to stand mixer. Mix well.

Add in confectioners sugar until desired thickness. I made mine smooth enough to go through a bag. You can make it thicker and spread on with a knife if you want.

The frosting seemed sweet to me so I added a splash of vanilla almond milk to cut it. This did the trick for me.
I hope your fam enjoys it as much as mine does!!