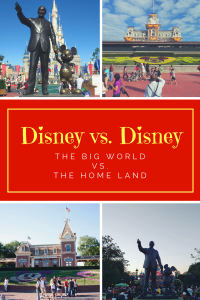 I finally got to get my happy butt to the original Disney property this year. It was pretty cool to see finally, especially with the Disney craze that has been this house the past few years. It got even better when I had company, who happened to be an experienced Land-goer.
Honestly, Disney World is still tops for me, mostly because it's my first Disney memories, where I've taken my kids…but Disneyland most definitely now holds a special place in my heart.
Disneyland: Walt walked these streets. He lived in the apartment above the fire station when he did. He mingled with guests. His light is still on, always on, to show that he's there. Always there.
Disney World: Walt inspired the concept of the parks, he was in the minds of the designers, and remains so, as they expand and change. He never walked the streets, he unfortunately passed away before it was built.
Disneyland: California Adventure Park.  Once a bit of an embarrassment, it is pretty awesome these days.  (Let's just not talk about what they did to the Tower of Terror, 'kay?). Cars land was really neat to see, as immersive as Hogsmeade at Universal…so, so cool. I spent a bit of time in Cars Land. The pier with the fair themed games and rides really made me happy. I loved every ride I went on here, pretty much.
Disney World: Epcot. Animal Kingdom. Hollywood Studios. Three parks to one. It's sort of tough to beat. I have always been a huge fan of Epcot, and Hollywood Studios. Not so much Animal Kingdom, but it hasn't really managed to get a good, thorough visitation from me for many reasons. Although, Mt. Everest is way, way at the top of my favorite rides. We'll talk about the construction downsides soon.
Disneyland Magic Kingdom: Cramped. Nostalgic, yes…but cramped. Dead ends everywhere. Weird rides bundled together in a loosely-tied theming…just to keep 'up to date'. Really liked my guided tour with my buddy learning the facts and one word: Matterhorn. I don't know, it just felt like a cramped mishmash. I did really enjoy going on several classic rides and the Matterhorn, though. Single Rider is a lifesaver there, though. Do it, even if you're in a group. You'll save a TON of time.
Disney World Magic Kingdom: More open, less confusing, and really, I just prefer it, even if they don't have the Matterhorn. 😉  The lands make more sense with the theme tie-ins, and the rides feel like they haven't been shoved in because there's no room to grow.
Downtown Disney vs. Disney Springs: No comparison. Disney Springs (although at times seems too big) wins. The end.
Construction in the midst of magic: We all know Disney has to innovate. I was fortunate enough to not see too much construction in Disneyland (I didn't approach the SW or GotG construction areas), but scuttlebutt going around is there is about to be some pretty hefty work going down in DCA in 2018.  Disney World has been overrun with construction. Last time I went I didn't even venture into Hollywood Studios but for about two hours to do Star Tours and have lunch because there was so much closed. In the coming years, Epcot will be seeing a ton as well. Although, that needs it…but still. It's a lot. A lot, a lot.
Clearly, going as an adult has its downside. You're an adult and you notice these things. My kids? Not so much.
Still, I love both parks in their own way.  I can now say I've been to Disneyland, enjoyed myself, and it will hold a special place in my heart. I'm not in a huge rush to return, though. Disney World, on the other hand…I'm going later this month, and I just went in September…so, I think it's still a winner, winner chicken dinner in my book.