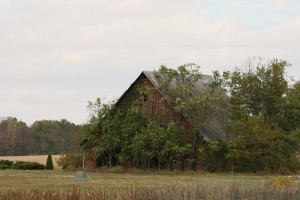 The Saga Continues. Mary and I have been itching to get more of this story out. So we've decided to publish twice weekly installments. Once a week will still be the Indie Ink Writing Challenge and the other will be a prompt we have given each other.
Since we alternate every posting, you start here with Chapter 7 and then head over to Mary's site with Chapter 8 of "Escaping Humanity"!
For those that have missed this from the beginning, you can find the complete story description and chapter listing HERE.
*~*~*~*
Dawn was approaching too fast. Soon she would have to find shelter. Chantalle had been traveling for the better part of six months now. Only at night. During that time she'd kept moving. Avoiding the risk of being caught by anyone remotely anti-mutant.
Beyond the cities that now lay in rumbles people were gathering. No. Humans were gathering. Trying to rebuild. To grow some food on the usable land that was left behind. Some were successful, and she'd seen the joy of people coming together and forming families out of the darkness.
For the most part she'd avoided the settlements, although sometimes the appeal of a hot cooked meal was too much. She only caved in mutant sympathetic settlements.
She was fortunate. She could tell when they were mutant sympathetic. She could tell if they were mutants in hiding. Most of the time she could give you a general rundown of their entire life history if asked for it.
Seeing a person's aura gave you an inordinate amount of information once you learned the proper way to read them. Since that was the primary mutation she'd developed, she'd made sure to learn fast how to understand them.
Some days it was all that kept her alive.
The horse danced beneath her, pulling her back to her present situation. There were few options for shelter in the middle of nowhere like she was. While Indiana had mostly come out unscathed, it was only because there was a lot of open land. Filled with cornfields instead of possible hidden groups of mutants.
The ground was battle scarred, mostly from the after-war skirmishes that still raged between the military and mutants or sympathizers. Still, it was wide open. Only a few barns to shelter her. The closest had animals inside, so it was still in use.
Somewhere there had to be an abandoned barn. With a kick to the ribs she got her horse moving again, galloping through the faint light searching for a run down barn, a cluster of trees, somewhere to take shelter for the day. To sleep and recover.
A few more miles through the fields she saw the perfect barn. Not so run down that it could cave in on her, but obviously falling from disuse.
Unfortunately it was occupied. By one person.
Chantalle frowned, studying the aura in the barn with care. It was a mutant. For the most part she'd left mutants alone as well. Too many were far too paranoid and her general friendliness and understanding tended to freak them out more. It was far too lonely an existence for the people person she'd once been.
Just as she thought she'd have to move on, to leave this mutant alone her memory caught up to her. There was something familiar about this person.
She knew him.
A grin crossed her features and she led the horse to the barn, slipping down just outside. It was easy to tell he was sleeping and she hated to startle a mutant that was alone. There was no choice, the sun was coming up over the horizon. She pulled the door open and led her horse inside, pulling the door closed.
As she'd hoped the loud creak of the door had managed to wake up the sleeping mutant, but he was hiding now. His indecision was clear, so she moved forward, "Dr. Carter?"
There was a tiny squeak of surprise, but he didn't move. As expected, suspicion tempered his moves. There was something else too. He was different, something major had happened. An injury, although his pain had been minimal. Probably a side effect of his mutation had helped.
"Dr. Carter. Maybe you remember me? I'm Chantalle Fries. Last year, you set my leg after the destruction of the city. You saved my leg, you saved me. Do you remember?" Chantalle moved forward, tossing the reins around a post. "Of course, my leg isn't as important now that Broadway is nothing but rubble."
"Chantalle," he whispered. "I remember."
"Good. Then you remember that I'm a mutant too, right?"
"You joked about your name." His voice was still a whisper, hard to hear. "Said it was hilarious. Chanteuse means singer, and that's what you were."
"That's right."
"Complex displaced fracture of the fibia, complete fracture of tibia. Result of crushing with loose fragments. You needed surgery. I couldn't move you, left you in the care of a friend of yours. We were supposed to return. Take you back when you were able to travel. I never made it back."
"No. I feared the worst for you." She moved around the corner of the stall he was hidden in. "Don't feel bad, though. Dixon took great care of me. Once I was well enough to fend for myself he left New York to find his family."
"You healed well, then?"
"I sure did. I'm surprised to find you out here in the middle of nowhere. You told me about the compound, I've been trying to get there. It's slow going, just me and the horse. What about you? Where's your wife?"
"Charlotte." A wave of grief crashed over him with a blast of dark purple that consumed his aura. "I don't know. We got separated. Indianapolis and St. Louis were among the last cities hit. We were trying to help some orphaned mutant children. She went to St. Louis. I came to Indiana. I just remember the explosion. The screams of the children, my own screams."
Chantalle knelt in front of Dr. Carter, setting her hand on his arm. "Dr. Carter?" There was no way to stop her gasp when he lifted his head. The right side of his face was mutilated with scars, the eye she remembered as a stunning blue now white and dead.
His left eye moved in her direction, but it was slow and couldn't seem to look right at her. "I was found by a sympathizer. Thankfully I was able to keep myself out of pain by numbing my own nerves, but I had no medical care."
"Where is the sympathizer?"
"She's gone. I guess she was already sick when the war came. Weak heart. She died a few weeks ago during a skirmish." Dr. Carter's hand shook as he ran it through his hair, "She helped keep the wounds clean, and even stitched some up for me, but there was no way to get me real medical care. My face and blood are among those tagged."
"How have you survived?" Chantalle took a shaky breath and sat next to him. The wounds were bad, but she was relieved his suffering had been kept to a minimum. For her surgery she'd been appreciative of his unique mutation. Without any access to anesthetic he'd been able to operate while she was fully awake, and she hadn't felt a thing. His ability to dull the nerves or make them fully alive in an attack had been one she'd declared the 'coolest' she'd ever seen. "What about food? How can you go anywhere?"
"Tracy had laid me in with some supplies every couple of weeks. I've been stretching them out. Right now I've been trying to figure out how to get back to the compound when I can only see shadows and light in one eye. I have to find out if Charlotte is alive. If she survived the attack on St. Louis." His breath came out in a long exhaled attempt to keep calm, "She's all I've got now."
Chantalle smiled, "Well then, Dr. Carter I think I can help. I really do hate being by myself and I was heading to that compound too. If you aren't afraid of horses, my buddy Shiksa and I can help you travel."
"Afraid of horses? I was raised on a farm. I bred horses." For the first time since she'd shown up there was a bit of hope in brightening up the layers of his aura. Even still, the sadness and longing for the love he remembered kept it dull.
"Good. Then at dusk we'll set out again." She squeezed his arm, "Don't you worry, Dr. Carter. I'm the best at keeping away from troops and snitches. The best liars can't hide the nastiness of their auras. I'll get you home and back to your wife."
"Thank you Chantalle. And please, call me Neil. I'm hardly a doctor anymore."
"Okay, I'll call you Neil. I have one stipulation to that, though."
"What?"
"Don't give up hope. Don't ever give that up. It's all we've got."
*~*~*~*~*~*~*~*
For this installment, Mary prompted me with "Love Remembered" and I prompted her with "Oath Bound."