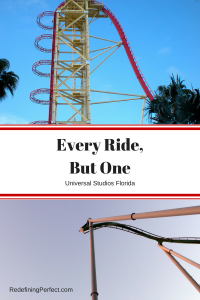 Our trips to Universal through Make-A-Wish were amazing. Hands down. The cast members, the rides, the amazing treatment we received. Universal WAS Kennedy's wish. She wanted to see Harry Potter world. That was her ultimate goal.
We had the best time.
We also had a strange curse afflict us while there.
See, we had two days at Universal. That was more than enough time to ride every ride we wanted to ride. Even some we weren't sure of.
Both years, we were able to ride every single ride, but one.
It was always one we really wanted to ride. Always.
On our first visit, we made it through most of the rides on our first day. We decided to save Big Mama…i.e. Rip Ride Rockit for our second day, on the theory of saving the best for last.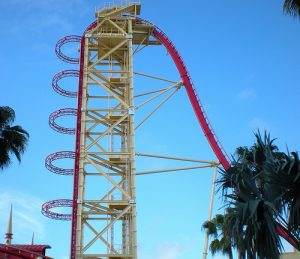 Our second day at Universal happened to be November 1st, and an odd thing happened that day. The weather decided that since it was November, it was going to show us how cold Florida was capable of getting. The temperature dropped into the 40's (Thank goodness we had our jackets from home with us), and the wind picked up like you wouldn't believe. The sun was shining bright though, so we set off on our newest adventure…
Here's the thing…like I said, it was windy. Rip Ride Rockit starts with a super-tall straight-up climbing tower of track.
High winds.
Tall tower.
See where I'm going with this?
The ride was closed for the day. We hung our heads, made sad faces, but figured it was all right because Kennedy wasn't tall enough to ride anyway. We didn't know when we'd be back, but we figured once we did go back, K would be able to ride, too. (And she did, but that's another story).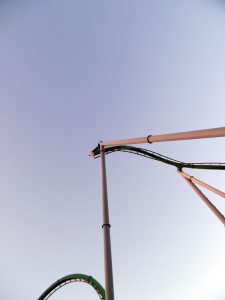 The second time we went was for Denver's trip. He's  not a roller coaster person, but his Mimi (my mom), totally is…and by his request Mimi had come with us on the trip.
Because of the incident the year before, we made Rip Ride Rockit our top priority. We rode, it was short but glorious, and has a story to tell later.
As we made our way through the parks with my mom, I was excited to take her to the Hulk coaster because it had been so amazing the previous year.
After much of the day we finally get there to find what you see in the picture over there. The ride was closed, being torn down in Universal's plan to make it even better.  By all accounts, the new ride looks amazing, but it totally cut yet another coaster out of our trip.
I can't say enough good things about Universal and their staff…
But whenever we do return (2019, maybe?)…I'm going to plan to fully expect at least one awesome ride to be down for whatever reason might occur.
Maybe if I plan, and expect such a thing I'll be pleasantly surprised and the ride will be available. Yeah? Maybe?