*Today's post was sponsored by Fruitshoot.  All opinions and lunch ideas are my own.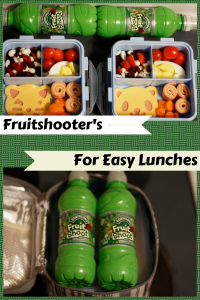 I have this special treat I love to do for my girls.
I don't do it as often as I should, but then it's not a treat, is it?
I like to make bento-style lunches for them.
I create sushi rolls out of sandwhiches, or just the meat and cheese.  I add in vegetables and fruits, and the best part?  They are so excited by the fun take on the food, that they happily eat all the healthy food I can pack into the meal…and even better?  They eat more than they would if I just offered them a sandwich.
Today we're heading out on an adventure for our first day of spring break. For my new job (more on that later), we're heading out to a farm to check out the baby animals.  The girls are so excited, but I'm going to surprise them with their favorite kind of lunches.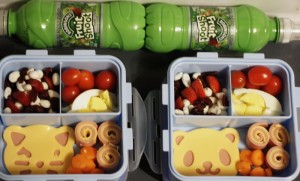 I've got all their favorites in there.  Tomatoes, cheese, carrots, bologna, craisins, strawberry's, yogurt covered raisins, and hard boiled eggs. I rolled the bologna and cheese into sushi-like rolls, and then made the [amazon_link id="B00CDPNA70" target="_blank" container="" container_class="" ]kitten and panda faces[/amazon_link] out of them, too. I went with a "round" theme with the carrots to match the rest of the fruits, and mixed all the fruits, dried and fresh, together for them.
All of that is topped off with their (and my) newest favorite drink.  Apple Fruitshooter's!!  They love the tasty drink, and that they can open them themselves (that whole independent streak they've got going) – and I love that handy little note at the top of the label "No Sugar Added".
It's a fun and easy way for us to all get what we want…and it's a great way to get a drink into their lunches.
So how do you like to fun-up your kids lunches?
*~*
*~*
*Today's post was sponsored by Fruitshoot.  All opinions and lunch ideas are my own.