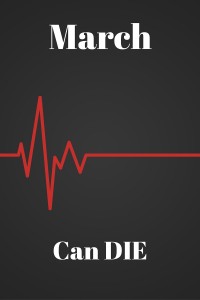 I don't care if I'm a few days early.
I don't care if it isn't technically correct.
I'm calling it anyway.
March is DEAD. It can die now.  It's April -4 so far as I'm concerned.
HI APRIL!!  You're a beautiful month. I know you'll be a fair sight better than that bitch, March.
After all, the only thing she gave me was broken drain pipes, cash flowing out way faster than it was coming in, heartache, and stress levels so high I couldn't sleep.
April, I welcome your soothing rains, your signs of spring, you warming temps. I also welcome the arrival of April 20th when I can see and hug my bestie and my second mom again. Hell, when I can hug all those crazy, insane ICDC people again.
So hello, April -4th. Glad to see you. You're a beautiful thing, you are.