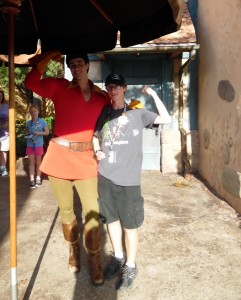 For a few years we struggled when it came to the teenager.
For those that aren't there yet and don't know…let me tell you, raising teenagers SUCKS.
I swear for two years it was a war zone here…but an oddly silent war zone.
Then he began to emerge as a full-fledged human. More? A full-fledged human I actually like.
Trust me, that's huge.
Still, he is a bit of an odd duck (and it's okay I tell you this because he'd admit it himself).  He doesn't "do" emotions…I mean, they're there and he feels them, but he's not touchy-feely-lovey-dovey-crying-yelling-hugging sort of fellow.
He'd rather show his affection in other ways. There are times when those ways are annoying…
Like the constant "Look at this" – showing me unfunny ifunny's.
Then there are the times when he uses what brought us together – Disney. He'll ask to watch a Disney…whatever. Be it a movie or a "Behind the scenes" show of some sort.
Then there's the flat out weird…
Like when he asks me for help ridding him of ear wax. Yes, you heard that right.  From birth my handsome boy has had a weird quirk (don't we all)…but his body doesn't dispel of ear wax the way a normal person's does. It builds up, even if he cleans daily, until he can't hear. At that point he needs regular flushing until the blockage is released.
And the random…
Like requesting that I join him for some garage sale shopping, or to head to the antique/flea market, always in search of playing cards (the thing he collects obsessively).
So the ways are weird, and funny, and annoying…but he does manage to show affection now and then.
The most special of all, though…are the rarest of all.
When he lets me hug him.
So few and far between, I treasure each of them. He's leaving all too soon.