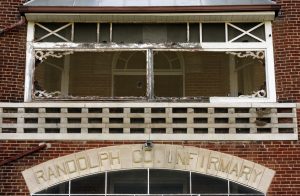 I am a total ghost geek.
I watch every ghost hunting show that comes along. I don't stick with them all, but I take a gander to see if I like it.
So one of my bucket list/45X45/50X50 items was a ghost hunt.
And I managed to swing my way into a ghost hunt right here in Indiana at the Randolph County Infirmary.
It was through a company, and though there were issues, it was a really cool way to spend my 40th birthday weekend.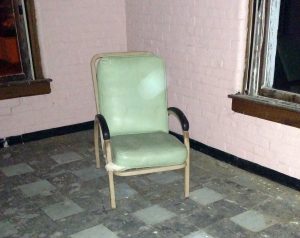 There were 40 of us there (issue primo uno). There was instruction on the devices, and a session with their psychic.
Then we went on our hunt.
I willingly went alone into a very dark, creepy, boiler room to do a solo EVP recording where I got pushed on the shoulders (so cool).  Unfortunately my EVP session was contaminated by the people talking super loud in the next room, and the people walking heavily up and down the stairs.
I caught orbs in my pictures, and got to use EMF detectors and Spirit Boxes. It was awesome.
I'm not one of those people that got mopey and depressed over my 40th. Even through the rough year I was having…but this?
This was an awesome way to spend my birthday. I want to do it again. With less people, in a more notorious place.
Hubby is all in with me.
Next stop…Waverly Hills. Next year…hopefully.