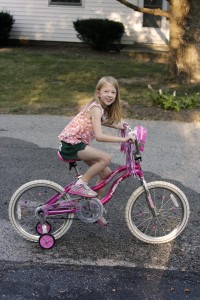 Last week I got an email from Molly's teacher.
In previous years this was always cause for alarm. We got emails (or phone calls) when there were issues.
So, it's to be expected that I opened this email with a small amount of trepidation.
Within the 20 words the teacher blew me away, impressed me, and made me so happy Molly has ended up in her class.  It read:
"I saw on Molly's IEP that daily check-ins were in order so I apologize for
not getting to it last week."
First off – you READ Molly's IEP? Before you were asked to? Before we worked on adjusting it for the new year (and upcoming standardized testing)?  Voluntarily and without any prompting?
SCORE – no teacher has ever done this before.
Secondly – you are ACTUALLY doing as asked?  You're taking daily notes to email to me a couple of times a week at least, with hopes of moving up to every day?
SCORE – no teacher has ever done this before either.
With one email I was able to breathe out a huge sigh of relief.  The struggles and confusion of the previous few years of starting school is dissipated and made easier all around for everyone.
When we go in for our IEP meeting next week I'm going to make sure that Mrs. B doesn't think that she must email me every single day, but a few times a week will work just fine. Mostly because I know she'll do it, because she already has.
Either way I think this year is going to be Molly's best yet. We're getting there slowly, but we're getting there.