I've never been a confident person (except on the stage).
I've never had that "it" factor that makes people popular, and I've never understood it.
I remember all too well the pain of being left out. The last called. The one no one liked. The one called "nerd". The one told, by the one she thought was her best friend "I don't like you,"  after a bone-deep betrayal.
The pain that cuts deep in the eyes of youth. The pain that lingers long into adulthood and taints memories for years to come.
I remember so clearly the torture of late elementary and middle school. I was terrified to send my boy to middle school because of my experiences (but he survived unscathed).
*~*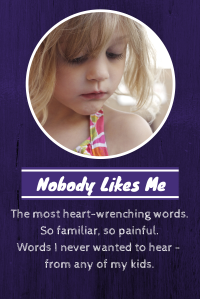 Out of all my kids, I never thought I'd have to worry about Kennedy.
Despite her quirks and tendency toward tempers, she's a bright and shiny, happy girl. One I thought was brimming with confidence and cheer.
I never thought she would look at me with tear-filled eyes and whimper those heart-wrenching words…
"Nobody likes me. They won't play with me. They said they wouldn't be my friend anymore."
A shot to the heart that brought up so much pain for myself.
Worse, because it's my baby.
And I want to fix it.
But is it fixable? How?
After a few weeks of contemplation, discussion, and talking, I attempted to email the teacher. I explained the situation, what had been told to us, with the full acknowledgment that I knew sometimes K's temper could be a stepping stone.  I asked the teacher for HER insights and observations…if she'd noticed anything. The only response?  The guidance counselor calling to suggest Kennedy be placed in "Friendship Group" again…a group she's been in every year that's designed to help kids w/ issues making friends for various reasons.
No insights.
No help.
K seems happier now. She's said that her friends agreed to be her friends again.
But I watch.
And I wait.
Praying that she comes out the other end on the good side of the emotional wall.
Knowing that I'll be there whatever happens. Either with deep understanding of her pain, or joy that she has a freedom and happiness I never felt.
*~*
Written for Things I can't Say's Pour Your Heart Out