Woah, boy has it been a while since I've done my reading report.  After July I seriously slowed down a LOT on my reading.  I've hit 154 books, and hopefully will meet 160 by years end, if I finish everything I'm currently reading.
Because it has been SO long since I've done this. I'm going to highlight a few books from months past, and will likely do the same over the next couple of months.  Life is about to get crazy busy with a new job and lots of writing to be done, so hopefully next year I can do at least a third as well as I did in 2017. 🙂
So, without further ado, here's what I've read, and what I'm reading now will follow closely after.
What I Read
Life changing.
I actually had seen this on netgalley a while back, but not knowing what it was didn't click "request".  Then a friend mentioned something on twitter about #oola, and I got intrigued, then remembered seeing the book and requested it. I got approved, but it sat on my Kindle for a while…until one weekend when I had some time waiting around while doing a little bit of work…and so I went ahead and started this. I'm not sure why I did…but I'm SO glad I did.
I could go on and on, but the short of how much I liked it is this:  I bought the print version of the original Oola: Find Balance for him. Then, I bought the print version of Oola for Women for myself…having it on my Kindle was not enough. I wanted more.
The voice is good and easy to read, the stories told are sometimes of the eye-rolling variety with some very wealthy people talking about things I could only dream about…but it didn't detract from the core message.  The core message that you'll be hearing a bit about as I work on it. I have a long way to go to find my oola, but I'm excited for the journey.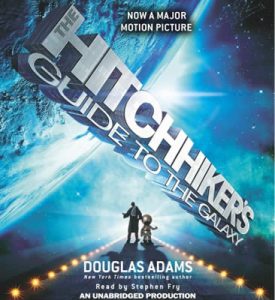 Hitchiker's Guide to the Galaxy (Audiobook)

I've been wanting to read this for a while. All my friends read it WAY back in high school…but I never did, no clue why.
A couple-few years ago, we watched the movie based on the book. It was slightly memorable, but we haven't watched it since…
And yet, when I started listening to this, I knew the narrator sounded distinctly familiar. It had been some time since I had seen the movie, but I swore the narrator was one in the same. A quick check and I found it that it was!
Stephen Fry gave a fun, quirky read for this fun, quirky book.  It was an enjoyable listen for sure.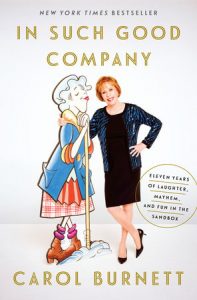 In Such Good Company (audiobook)

I grew up watching the syndicated reruns of the Carol Burnett Show. I love it. I laughed with it. I have many good, fond memories of the show.
This book was read by Carol herself, which is awesome.  The stories were a mix of details over how the show got created, how she knew some of the guest stars before they appeared, and other behind the scenes magic…along with fantastic retelling of some of the best skits, which sometimes got our wonderful narrator chuckling at the stories herself.
A fun listen, and even had me in tears as she spoke of the final episode, and her closing monologue.  Definitely worth a listen if you ever watched the show.
I've had this one on my shelf for a while. I've been told time and again that I should read it. Since I once worked at B&N in the late 90's (one of my favorite jobs), I've been hearing about this one. By luck of the draw, I picked it off my shelf using random.org to select a book on my shelf.
I'm so glad I finally got around to reading it!  It was a quick read, and very interesting. The set up of the world was perfect, descriptive, and drew me in. Loved the introduction of color into it.
For once, I totally understand why people were telling me to read it. Very good, and I highly recommend. Not sure if I'll read on, as I have a mountain of books on my shelves…but definitely enjoyed it.
I got this a while ago, started reading it, then stopped. Then got the audiobook and didn't finish before my borrow period ran out. Then hubby got it and read it all the way through and raved (never mind that I told him about it first…it took someone else telling him aobut it to read it.).  So, finally, I got to borrow it again and listen all the way through.
First, if you didn't know, this is read by Wil Wheaton. I'm a big WW fan…have been for years.  His voice is perfect for this bit of nostalgic geektastic fantasy.
I really liked all the fun mentions of classic 80's pop culture. You can't help but grin at all of the many references.  The action is interesting, and kept me wrapped up in it, worried about how it would come out.
What I'm Reading Now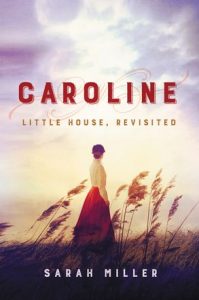 Caroline: Little House, Revisited

I am a huge little house fan. Have been since the age of 4. I read them 18 times between the ages of 4 and 18. Over and over. One of the few books I can claim to have re-read.
So, when I happened to see this book show up in my facebook feed, I knew I had to get it. And I did.
Set during the Little House on the Prairie novel, but told from Caroline's perspective, it's an intriguing look at Ma Ingalls…a character I've always been fascinated with and staunchly picky about in any screen-rendition of (but let's not get into the TV show or mini-series, we'll be here forever).
I'm about 1/3 of the way through it right now.  The writing is stunningly lyrical, the imagery beautiful.  My biggest hiccup, and it's all my own issue, is getting my brain to register that this is Ma Ingalls…and it's not a book for kids…because there is talk of her attraction to Charles, and their intimacies. A hurdle I will happily get over, because I have to continue reading it.
I got most of this series off of netgalley (one of them is not available for some reason).
I've barely scratched the surface of it, so I have not thoughts yet, but it seems like it will be a quick enough read. If I can ever remember to open my Kindle to read with all of the print books I have lying around.
Okay…I had heard nothing about this book, seen nothing about it, knew nothing of its existence. I went to the library to get the next book in the line, and had no intention of getting anything else, but I cannot go to the library without meandering.
The bright neon colors on the spine of this book called to me, and the title of "Meddling Kids". I opened it up and read the blurb, and instantly knew I had to borrow it, even though it was on the new shelf, which meant a short borrowing period.
It's basically a different version (yet totally familiar) of the Scooby Doo Mystery kids…all grown up, years after their last catch has passed, all still haunted by the inexplicable things that happened that night, which can't be explained away by the very human man they apprehended.
Seems like a fun, slightly kooky read.
I know next to nothing about this book. Honestly. I am pretty sure I've seen it on the library shelves, the title and cover seem familiar…but it is nothing I've picked up before. I blame this library borrow on the TV advertisement for the show that's coming out based on the book. I thought the show seemed interesting, mentioned it to the hubster and he said, "Is it based on that book?"
I said, "What book?"
And within 30 minutes I was on my way to the library.
So there you go. We'll see what happens.
*~*
That's it for this month. I decided to go easy on us all, because there are a BUNCH that I've never mentioned on here, both good and bad. Hopefully next month some of these currently reading books will be read.