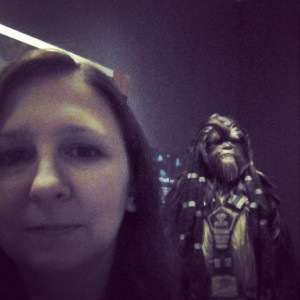 Since it was just my birthday this weekend, I thought now would be a great time to revisit my 45X45 list.  The last time I checked it was over two years ago!  Yikes. I don't even remember what's on half of it. I have a feeling I might be changing a few things up. I have about 6 years left to clear the list, so let's see where I am.
A color legend is probably important.
RED is done.
ORANGE is working on it.
BLUE is new (replacing something else).
****
45 X 45
Take a real vacation. (Not to Buffalo, not w/ the kids) (Done 4/23/12)

Take my kids to Disney World. 

(Done, thanks to Make-A-Wish 10/28/14)

See my name in print (get published, e-zine, paper-zine). (Done 6/24/12 – Sirens Call June 2012 Issue)
Have a novel published. (Done 2/8/13 – Changing Tracks & 17 more times [so far] by 7/18/15)

Get my Dominion Falls books series in front of a producer.

Completely tidy my house [w/reference to KonMari]

. (Started w/  my clothes. Lots left to do)
Take a photography class (or 2 or 3)
Perform on stage again
See Colorado
Camp – really camp in the Rockies
See Yellowstone

Go skydiving. [Yes, I feel slightly insane here]

Go to a blogger's conference

. (done 4/23/12)
Go to a writer's conference

Get on a regular exercise regime & stay on it for more than 3 months.

Hand craft (knit, sew) 1 item for ME for a change

.

 (DONE 4/1/12)

Make a complete Victorian era dress from skin out. (underthings complete, corset 50% complete)

Get some crazy color in my hair (purple, blue, pink highlites/streaks) Done 2/11/12

Read the Harry Potter series aloud to my girls

. (1/2-way through by 7/18/15)

Sing Karaoke 

Relearn French.

(Actually working on this at the moment)

Pay my house off (long shot – but I can dream)

Get a car that is less than 2 years old

Run a 5k

. Done 9/22/12 

Do something daring (paragliding, zipline, etc.)

 Done 7/14/12
Be a reenactor at Conner Prairie

Go on a road trip with a girlfriend

Go on a hot air balloon ride

See Cirque du Soleil 

(Done 6/27/2012)
Ride a horse – not a trail horse. A real ride on a horse.
Volunteer at Kennedy's CF clinic
Stop drinking pop

Visit Disneyland [Been to WDW many times, would like to see the other]

Get a tattoo

 (Done 7/16/11)
Go on a Cruise [preferably Alaskan, but I'm not picky]

Go on a wine tasting

 (Done 10/16/10)
Have a photo at the State Fair (preferably getting a ribbon for it)
Take my husband to swim with whale sharks
Fly first class
Read at least 50 of the 100 Greatest Novels (I am saying the book can be from either of the 2 lists there. In total I have read 8/50 at this point)
Have a real spa day (Done, thanks to Hubs, 7/2014)

Visit a real haunted location 

Sell a photo
Visit Salem, MA
*~*
Well, I've made a few changes, obviously. Some are still long-shots, but if I don't dream big it'll never happen. I really need to not forget about this again. 45 is coming up faster than I care to think about.
What about you? What's on your list?