*Side note – to date this is my absolute favorite picture of Kennedy. 😀
When you first meet Kennedy, and often for many meetings after, you see the sunshine.
We once pegged her as the 'smilingist' baby ever.
She has it all.
The eyes that melt your heart with their bigness, their brightness, their expressiveness.
The cheeks that run in the family – from birth until teens just adorable, chubby, and pinchable.
The silly grin. It lights up her face, or quirks just a bit to make you forget the anger and lean to laughter.
Don't get me started on the baby-doll voice. Cupie doll, sweet and tiny.
No one can believe it.
Not unless they ever see it.
No one understands it.
The completely opposite.
Desperately different.
Achingly painful.
Underbelly of that sunshine.
When we mention the way she can burst your eardrums we get the "You're kidding, right?" look.
When we mention the temper tantrum she threw – they think we're being silly. We don't know what a real tantrum is like, what real anger is like.
But they weren't there to watch her slam her head into the corners of walls, into the hardwood floor, into our faces.
They aren't here to see her intentionally dig at her nose until it bleeds so often she's building scar tissue.
Some days I feel like people look at me like I'm making it all up.
Some days I wonder if maybe I'm overreacting to the anger.
That on top of everything else this one thing is unbelievable.
Because she is sunshine.
With every heart-wrenching smile – she is sunshine.
When I am at my angriest she can make me lose hold of it and smile.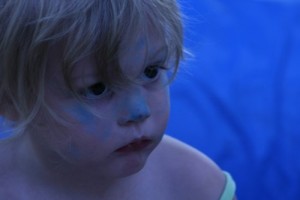 But she gets angry.
Mind-numbingly, ear-splittingly, heart-wrenchingly angry.
Things are better these days.
A little.
At least she isn't trying to break our noses on a regular basis.
But her teachers notice.
It's out of line with "normal" temper tantrums.
And for this – for this I don't know how to help her.
Everything else has a solution.
A therapy.
A doctor.
A…something.
This?
Most of the time, I don't know how to handle this.
I let the flame burn out.
And wait for next time.