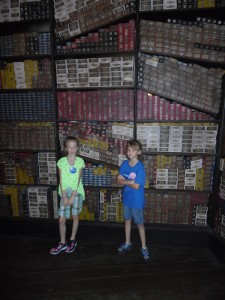 Our whole trip to Disney and Universal was a magical experience. There wasn't one minute the whole week that we weren't in awe, happier than ever, and closer than ever.
We have so many tales of the fabulous magic that occurred that week. From our first day, and first stop, at Ollivander's wand shop. There Kennedy (and her sister) were both chosen by Ollivander himself and received wands selected just for them.
Kennedy wanted to ride every ride, and proved herself a little daredevil. We covered a lot of Universal that day, and rode everything in sight. Kennedy and her sister got pictures with all of their favorite superheros.
Of course, at the Magic Kingdom there was even more magic to be had. We stopped for every photo opportunity, and the manipulations the Disney photographers manage was stellar. We started our day at the Magic Kingdom with Space Mountain and the rest of the day was just as exciting.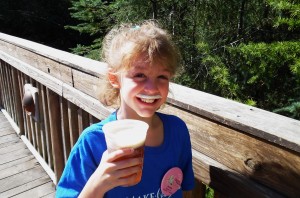 There are so many moments we could talk about. So many ways the trip was made magical for us. There were so many things everyone did, from Make-A-Wish, to Give Kids the World, to Universal, and Disney, that have us still talking about our trip. Moments that brought all of us so much joy.
There is one story in our week of magic that stands out above the rest. One twenty minute span of time that will be held up as the most magical and endearing of them all.
When we went to Epcot we mistakenly didn't expect to see any princesses. Call us naïve on the behavior of all the characters that roam all of the parks. Halfway through our day we stumbled upon the beautiful Aurora. While the girls were meeting with her, the photographer let us know about all the other princesses and when they'd show up.
The photographer clued us in on an unscheduled appearance of Belle in her town clothes right outside of France. We killed some time, got some delicious French pastries (that our teen is still asking for to this day), and headed toward where Belle was said to appear.
Before Belle arrived, her photographer did. The kind lady spoke to our girls for a while, and suggested that Kennedy ask a few questions of Belle. Namely: a) What is your favorite dessert? And b) What is your favorite book?
Moments later Belle emerged from behind a building.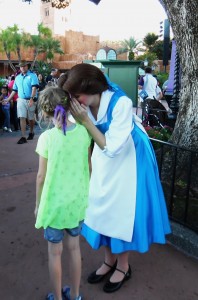 The beautiful princess made a beeline for my princesses. In a gesture we hadn't seen even through all the magic of our days, she took Kennedy by the hand and kept her close as they chatted. When Kennedy asked Belle's favorite book, Belle leaned in and whispered in her ear.
To this day, we still don't know the answer ourselves—that is a secret held just between Kennedy and her new favorite Disney princess.
After that, Belle continued holding Kennedy's hand, and the stories became more animated. As she dove into Kennedy's question about her favorite snack, Belle talked about a trick Mrs. Potts once played on Lumiere, all the while still holding Kennedy's hand.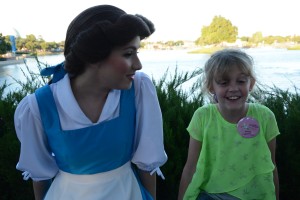 For a good solid twenty minutes (give or take five minutes), Belle spoke with my girls. Her attention never wavering, and her hugs nice and tight.
Somehow she even got our picture shy teenager in as their very own "Beast" for a few photographs.
We saw many princesses, and some comic book heroes, but no other moment in time has stood out as much as this one. A moment in time that lingers with us, and most importantly, with Kennedy.