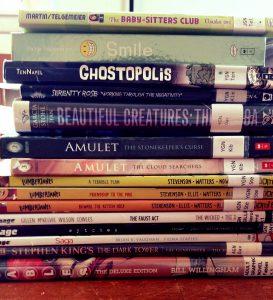 The first time I saw "The Baby-Sitters Club" in graphic novel form, I rolled my eyes.
"Why on EARTH would they make those into graphic novels when there are perfectly good books out there?"
It annoyed me.
It seemed a cheat.
I was a snob.
It took me looking at my child, my Molly, eagerly reading for the first time in ages after declaring she now hated reading.  Her attention span wasn't enough for chapter books to hold her interest, but graphic novels were another story.
It took me letting go of my bias to see how graphic novels could benefit a child like my girl.
I picked up those exact Baby-Sitter's Club books for Molly at the library.
I picked up a  bunch of graphic novels for myself to try.
I found I don't care for the comic-book ones…but those that tell a story (or stories), I enjoy.
My favorites so far have been Through the Woods and Amulet. I have several more to try, and I'm excited to do so once this chaotic work week is over.
The best part of opening my mind has seeing my daughters both excited to read again.
Molly is so excited that she's actually begun picking up chapter books again.
Kennedy is enjoying interspersing her chapter books with these quicker reads of graphic novels.
I'm enjoying expanding my painfully narrow repertoire of reads to include something different, and learning what I like in this new area.
So, in short…you can teach an old dog like me new tricks. It just takes me letting go of my bias and opening my eyes to see the benefits.
So now that I've opened my eyes, I need your help!!
What are the best graphic novels for my girls?
What are the best ones for me?