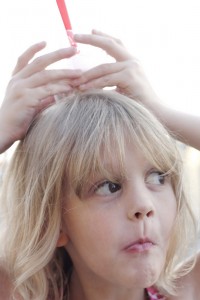 She is our challenge.
Defiant and fiery – but so easily turns on the charm with her doe eyes and a smile that you find yourself fighting HARD to keep your smile. She's cute as a button, and the little snot knows it too.
Her whole life she's looked her challenges in the eye and laughed.
Torticollis?  "Puh…watch me straighten my head out"
Hypotonia? "Pshaw…you say I won't walk until later? Watch me and my crazy crooked gate at 12 months. (And just wait, I'll run at 15 months)."
CF?  "Ha!  I got this…"
And she (mostly) has for six years now.
CF? "I told you…I got this…"
But she doesn't.
Something is falling behind.
It could be a tough infection that's skillfully hidden from the throat swab.
Or maybe her "poor" weight gain is exacerbating her CF.
Either way, she's not maintaining weight. In fact, she lost this time.
Worse, her lung functions & saturation levels do not make her pulmonologist happy.
And now the challenger of rules and attitudes and restrictions is going to be challenged again.
Tests.
A Chest CT.
A bronchoscopy.
We're going to get results quickly. By the end of the month we should know what we're facing next.
Maybe IV antibiotics.
Maybe a g-tube.
Maybe both.
Doc says CF is more aggressive in girls.
So Doc is more aggressive toward it in girls.
Doc sat on this concern for almost a year.
Watching.
Waiting.
Believing it would improve – that K would knock it out of the park.
And she almost did – back in December we were sure trouble had passed.
But trouble came back.
Now is where life gets interesting.
Where we go on a strong offensive.
Time to once again laugh in the face of this challenge.
Whatever it ends up being.
First step.
Tests.
Answers.
Then we fight.