They start with once upon a time and end with everyone living happily ever after and in between those two things there is singing, talking woodland animals and a good deal of magic.  Everyone knows that's how fairy tales go.  But do we really know these tales?
Did you know that in the original Little Mermaid, she doesn't get the prince?  Nope.  He marries the other girl.  The Little Mermaid's sisters get together and find out from the Sea Witch that if the LM will stab the prince with a dagger, then she (the LM) can return to being a mermaid.  The LM doesn't go for this.  She tries, but can't bring herself to stab the prince she loves so much.  She chooses the punishment, explained by the Sea Witch, for not winning the prince's heart: turning into sea foam.
That's right.  Sea foam.  Happily ever after, amiright?
Did you know that originally Goldilocks doesn't just learn a lesson about trespassing?  Nope.  Instead of running home to live a long life of staying out of other people's porridge, chairs and beds, the bears catch Goldi and rip her to pieces. Similarly, Red Riding Hood doesn't even make it to Grandma's.  The wolf just eats her.
Pleasant, no?
Did you know that an early version of Sleeping Beauty included adultery, rape, and cannibalism? Yep.  A married king happens upon the sleeping girl, rapes her, and impregnates her.  (She sleeps on…)  Then gives birth to twins (still asleep…). One of the babies sucks on her finger (where she had pricked it on the spinning wheel) and drew out the splinter.  Curse ended, Sleeping Beauty wakes up.  Instead of flipping out about finding herself the instant single mother of twins, she calmly names them Sun and Moon and continues living where she was.  The married king returns after a bit and spends some time with his secret family.  However, his wife finds out, has the children brought to the castle and orders the cook to cut up the kidlets, cook them and serve them to the king.  He doesn't.  After the queen tries to kill SB, the king has her killed and marries SB.
Who is getting a good night's sleep after that story?
I didn't even get to mention the body mutilation in Cinderella, the infanticide in the Pied Piper, or that in the first version of Snow White, the evil queen was her own mother.  I just hope that somewhere between the once upon a time and the happily ever after, these characters have a chance to get some therapy.
A themed book tour through Prism Book Tours.
The Cinderella Theorem
(The Lily Sparrow Chronicles #1)
by Kristee Ravan
YA Urban Fantasy
Paperback, 367 pages
March 17th 2014
Fairy tales are naturally non-mathematical. That is a fact, and fifteen-year-old Lily Sparrow loves factual, mathematical logic. So when her mother confesses that Lily's deceased father is (a) not dead, (b) coming to dinner, and (c) the ruler of a fairy tale kingdom accessible through the upstairs bathtub, Lily clings to her math to help her make sense of this new double life (1 life in the real world + 1 secret life in the fairy tale world = a double life).
Even though it's not mathematical, Lily finds herself being pulled into a mystery involving an unhappy Cinderella, a greasy sycophant called Levi, and a slew of vanishing fairy tale characters. Racing against the clock, with a sound mathematical plan, Lily attempts to save her fairy tale friends while proving that normality = happiness.
Amazon
Calling for Reviewers!
We're looking for reviewers! You don't need a blog to sign up, but you do need to at least post a review on Amazon. Other sites (blog, Goodreads, etc.) are also appreciated. Reviews must be completed by the end of November. To sign up, please fill out this form.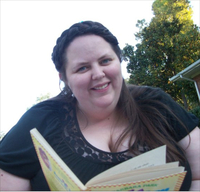 Kristee Ravan lives in Oklahoma with her husband, daughter, and pet fish, Val (short for Valentine). She wanted to be many things as she grew up including a general, an artist, and an architect. But she never bothered to say, "I want to be a writer when I grow up." She was always writing stories and thought of herself as a writer anyway. She sent her first story to a publisher in the sixth grade. (It was rejected – in a nice way.) When she is not making up stories in her head, she enjoys reading, juggling, green smoothies, playing dollhouse with her daughter, and hearing from her fans. You can contact Kristee at the facebook page for her Lily Sparrow books: The Lily Sparrow Chronicles.
Website – Goodreads – Facebook – Amazon
Tour-Wide Giveaway
5 copies of The Cinderella Theorem (print for US winners, ebook for international winners)
Ends August 31st
a Rafflecopter giveaway
Follow the tour!
August Dates:
11 – Launch
12
13
14
15
17
Letters from Annie (Douglass) Lima
18
The Crazy Antics of My Creative Mind
19
20
21
22
24 – Grand Finale