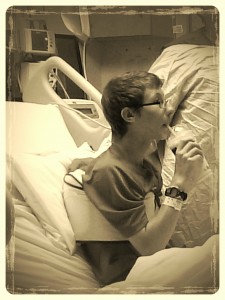 The hospital the kids go to for their CF is a teaching hospital. It always has been.
There have been many times we've gone to clinic and met new residents or fellows that were learning the craft from our top-notch pulmonologist.
Some don't stick around for a while, others are around for at least a year.
The changing faces can get confusing when you're in a long-term treatment plan like we are (or are terrible with names like I am).
When you're in the hospital there are some definite positives – and definite negatives.
Positive – you have a team of doctors working your case. You know you're getting the best care and a variety of input on your treatment.
Negative – you have a team of doctors working your case. Every morning each member of that team comes in to check breath sounds. Not all together to get it done once…nope, one by one over the course of an hour.
Positive – There are more nurses and therapists working your treatments and procedures.
Negative – sometimes the room is overcrowded with people each dedicated to your care.
This hospital is the best place for care. I know the people care about my child and making him healthy.
I know that there are many people working his case.
But it's still overwhelming and frightening.