Recently, I went to a meeting and one girl talked about when she worked on a project, she preferred using Crayons over map pencils because there were more colors to choose from and are easier to use. To find out more about Crayons, copy and paste this link:  http://www.crayola.com/products/crayons/all/ 
In my scientific on-line research, I found this color range list in alpha order: http://www.colourlovers.com/web/blog/2008/04/22/all-120-crayon-names-color-codes-and-fun-facts
And in case you were wondering, here's a list of retired colors from 1990: http://www.crayola.com/faq/another-topic/what-are-the-names-of-the-retired-crayon-colors/
So I got to thinking of what were my preferred Crayon colors. Mine favs are:
1.       Red
2.       Pink Sherbert
3.       Indigo
4.       Royal Purple
5.       Aquamarine
6.       Sunglow
7.       Gold
8.       Gold
9.       Silver
10.     White
My newest romantic comedy collection is Bug Stuff…and Other Stories. Because a similar anthology of mine was done with red and gray colors, the artist and I picked blue and yellow for this one: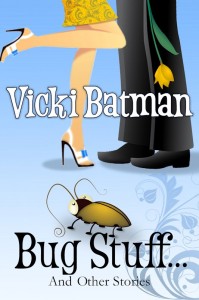 | [amazon_link id="B00HPA8PVY" target="_blank" container="" container_class="" ]Amazon[/amazon_link] |  BN |
Bug Stuff & Other Stories includes:
"Just Desserts": a political dinner gone disastrous brings together a reluctant attendee and her seat-mate.
"Bug Stuff": An accountant unites with his co-worker to fight a pesky adversary.
"With This Ring": When a wife forgets her little black dress, all turns into something utterly romantic and unforgettable in the end.
Are you a Crayola Crayon lover? What are your favorite?