Top ten ways to prepare for Christmas.
I love Christmas.  The bit I don´t like is the 3 months or so of tinny carols in shops, excessive advertising, and the supermarket being rearranged to make way for twenty aisles of seasonal produce.  Given my occasional Scrooge-like tendencies, it can take me a while to get in the spirit of Christmas, which makes it all the more ironic that my first seasonal release is a Christmas story.  This year, publishing my story The Santa Next Door with The Wild Rose Press has helped me get in the mood for Christmas a lot earlier than usual, so I thought I´d take this opportunity to share my top ten ways of getting into the spirit of the season and avoiding the last-minute panic.  I wonder how many of these you share?
1. Wrapping gifts.  While I can take or leave Christmas shopping, I love the process of disguising and beautifying items to sit under the tree.  Maybe it´s my overactive writer´s imagination, but when battling with the sticky tape, I can almost see the joyous faces of my friends and family tearing the paper off.
2. Writing Christmas cards.  It can feel like a chore, but writing cards is also a wonderful opportunity to connect with people I don´t see often, and show appreciation for those I do.  Like choosing and wrapping gifts, finding the right card is another way to step away from the mass-produced and add a personal touch.
3. Making decorations. Of course you can buy decorations, and I often do, but some of the baubles and trinkets I love seeing most are the lop-sided, hand-made ones that carry personal memories with them.
4. Mince pies.  This traditional British favourite is so much a part of Christmas, it ended up with a whole scene of its own in The Santa Next Door. I love all kinds of seasonal delicacies, but if I could only save one, it would be hot spiced pies.
5. Mulled wine.  No Christmas party would be complete without steaming spiced wine, and I was over the moon when I discovered you could do the same thing with red grape juice for the drivers in the party.
6. Christmas music.  I don´t mean the endless repeats of seasonal number ones that you hear in the shops, but traditional songs like a soaring Gloria never fail to lift the spirits.
7. Outdoor skating rinks.  They might be even chillier than their indoor equivalents, but there´s a unique thrill to gliding about in the open air, huddled up in a scarf and gloves, feeling the chill just on the end of your nose
8. Scented candles. As Christmas approaches, the nights draw in, and the early dusk is a great excuse to light candles scented with pine or cinnamon.  As a very wise lady once said, better to light a candle than curse the darkness.
9. Re-reading old favourites. Little Women never fails to remind me how lucky I am to be enjoying a Christmas with presents, and The Magic Christmas Tree is another seasonal must-read to encourage me to appreciate the season.
10. Watching Christmas movies.  For many of my friends, Christmas is A Wonderful Life or Mary Poppins.  I´m a little less conventional in my choices. My current favourite is Arthur Christmas, which has just narrowly surpassed my previous top pick, Olive the Other Reindeer.  Both are adorable animations with a heartwarming message.  What better way to feel the real Christmas spirit?
*~*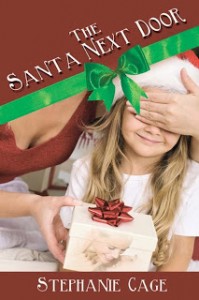 | [amazon_link id="B00ES5JYLE" target="_blank" container="" container_class="" ]Amazon[/amazon_link] |
Blurb
Sue Edmonds swore off men after her feckless husband left her struggling to care for their four-year-old daughter Trudi and maintain their ramshackle Victorian home.  But her mysterious neighbour might tempt her to change her mind.
Bryn Thomas once found peace and happiness in music but that was before his heart was broken.  Now it stirs up painful memories and provides little comfort.  That is until he finds himself sharing Christmas carols with his young neighbor and her beautiful mother.  As Sue sees Bryn playing Santa, she is touched to discover his gentler side.  Can she hope for a Christmas miracle and the fulfilment of Trudi´s Christmas wish for a Dad?
*~*
Excerpt
"Mmmm." A blissful murmur escaped Bryn's lips. The pastry was crisp and warm and light, and the filling rich and spicy, bursting onto his tongue with the taste of childhood Christmases. "Thank you." His thanks to Sue related to more than just the neighborly gesture of bringing pies. He only hoped the two weak words could hold the depth of gratitude he felt for the way she had awakened him, his energy, his hopes, and his senses. The warmth in her eyes as she responded with a simple, "You're welcome," suggested that she understood something of the depth of his feeling, though perhaps not the reason for his emotive response. He smiled across his coffee at her, and no words were needed as they shared a moment of perfect contentment. Of course, Trudi was not one to allow the silence to linger, and she bounced over to Bryn with her hand outstretched, displaying the coloring book she'd brought. Sue sat back in the corner of the sofa, and Bryn got a very appealing view of her shapely legs. She looked like a cat curled comfortably in the warm room, and she seemed happy to let Trudi, perched on Bryn's chair arm, dominate the conversation. "I want a princess dress for Christmas," Trudi announced. "I love princesses. I like the princess in Aladdin best, and I like the other princess, the one with red hair like mine." Sue and Bryn exchanged an amused look as Trudi rattled on. "I like unicorns too. I've got a unicorn but it's not a real one. It's purple and furry." Did all girls go through a fairy-tale phase? Something in Sue's eyes told him that if she had ever believed in happy endings, she no longer had that faith. What had happened to change that feeling? He wasn't ready to ask yet, but maybe one day he'd find out. He'd like to bring back her faith in the world.