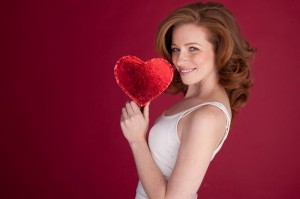 The prompt this week is Sweet.
I'm finally back to Deep Fried Sweethearts, my wonderful little Valentine's story.
This may be my last foray into Deep Fried Sweethearts…unless you absolutely throttle me for where I leave you.  Michaela has done a terrible wrong by Tag at a time when he needed her most…but her life experience has shattered her trust in her choice in men. After messing up so bad she goes to his place to make an apology and explain, she doesn't believe he will forgive her, or that she deserves it… 
Michaela chewed on what was left of her thumbnail, staring down the street on her right. She'd been at the stop sign for almost ten minutes. Thankfully the snowfall last night meant the roads were still quiet.

After almost a week of nearly turning down the street, she was still trying to build up the courage to do it.  "Just turn the wheel and go."

A week ago she'd turned her back on Owen, she'd not given him the benefit of the doubt like he'd asked. Everybody in her life had read her the riot act for it, even Eve, although she'd done so more gently than the rest.

Still, she didn't know which part of her was the biggest fool.  The one that had turned her back on Owen, even though life experience taught her that her judgment in men couldn't be trusted; or the part of her that wanted to believe in him more than anything.

"Just turn the wheel," She whispered. "There's a good chance he won't even open the door anyway, so just turn the wheel and go."

A car horn jolted her out of her inner struggle and she shrieked in surprise. With an apologetic and embarrassed wave out her back window, she turned down Owen's street. The other car went the other direction, so she was able to drive slowly down the street.  Still she arrived at his duplex all too soon and parked her car across the street.

At this point she didn't know where to begin, or even what she was feeling or thinking any longer. Ever since his abrupt, and very justified, resignation she'd been at a total loss. When he'd come into The Midway to turn in his keys she'd found herself unable to even speak.

She should've said she was sorry. Thrown herself at his feet and begged forgiveness.

But the familiar doubt, the safe wall of seclusion she'd built so long ago, those had crept back in and prevented it.  What if the drugs had been his?

How could she believe that about him?

She'd never thought it was possible with Gary either.

Maybe Owen would hear her out if she started with sorry. First step would be finding her voice, and not locking up like she had when he'd come in to quit.

Before she could quadruple guess herself yet again, she grabbed her keys and got out of the car. She trucked across the street and up the steps despite her nagging doubts and the nosy Mrs. Quinn's curtains moving aside. With more force than she thought her trembling hands capable of, she pushed the doorbell.

Silence echoed back and she tapped her heels rapidly on the porch. "Please, Owen. Please, answer the door. Please, please, please."

She chewed on her lip and glared toward Mrs. Quinn's not-so-subtle peeping face. With a deep frown, she hit the doorbell again.

The door cracked open finally, but it wasn't Owen on the other side. Myrtle herself fixed a scolding scowl on Michaela. It was enough to stop Michaela's tapping heels, and lodge the thick lump of fear firmly in her gullet.

"Please." Michaela cleared her throat when the word squeaked at an embarrassing pitch. She twisted her fingers together and bit her lip. "Can I see him?"

"Look, Missy." Despite her lack of coat, Myrtle stepped onto the porch and pulled the door shut securely behind her. She urged Michaela toward the railing across from the door. "I know your reasons for what you did, and you got your demons."

"He needs to know them, and I need to apologize." Michaela twitched her nose against the tingling rise of renewed tears she'd thought were long dry. "I know."

"Nobody knows your story but you. I know there's been a heap of talk around these parts, but talk is just that." Myrtle frowned. "But if you hurt my boy again…"

"I doubt he'll even take me back. I just want to tell him…"

"Oh, sugar. You and he, you're in for a mess of trouble if you keep up with all this denial." Myrtle sighed, and patted Michaela's hand. "He's good and hurt, and he's got every right to be. But I told him to try to talk to you. Was trying to get him to go today. I can't guarantee he'll talk to you, but you can try."

"Thank you." Michaela followed Myrtle to the door, and stepped into the warm house right behind the older woman. In the kitchen, Tag rose to his feet and scowled between Myrtle and Michaela.

"Tag, don't give me that look. I got to get my old body into work and I don't have any more time for your stubborn head. Now give me a kiss and then at least listen for five minutes." Myrtle shrugged on her enormous coat and leaned her cheek to Tag.

Tag kept a dark eye on Michaeala, but leaned sideways and placed a half-assed kiss on his aunt's cheek. As the woman ambled toward the back door and disappeared outside, he remained immobile and silent.

Once again Micheala could swear she felt every single word in her head tumble over each other until they curled into a snarled ball and shot right down into a lead ball in her gut. Doubt over the right course of action started to creep back up.

"Well? You're down to four minutes."

His voice startled her right out of her own misery and she met his hard gaze with wide eyes. Her mouth opened and closed impotently for what had to be another minute before she managed to find her voice. "I'm sorry."

"Thanks. Doesn't take my night in jail away, or erase my name out of the paper under arrests—"

"I hurt you. I embarrassed you. I can't ever make it right and I don't expect you to ever forgive me. I should have said something when you came to the shop, but I didn't know what to say, or how I felt, I was so confused."

"That makes two of us." He turned his back on her and leaned on the counter. His shoulders twitched and he picked at the loose edge of the marbled laminate. "I only ever asked you for one thing—to give me the benefit of the doubt. You couldn't do that, could you?"

"I told you I couldn't. I told you I could only try. With my track record, I wasn't sure what to think. You can't begin to understand."

"You wouldn't even let me try. All that time I thought you were starting to open up, you weren't. I was lying to myself."

"No, you weren't. It's not your fault."

"I'm a fool for thinking I could crack that shell."

"No. You cracked it, but a crack takes time to widen. Time we didn't have." She closed her eyes and dropped her head. "Will you let me explain why—why I walked away, why I still struggle to believe you are a good guy even though I know—I know that I should?"

"So you still don't believe I'm innocent? Then why are you here?"

"Because in my experience good guys just don't exist!"
*~*
Hope you enjoyed it!  Click on the Tuesday Tales badge to see more excellent entries!!

*~*