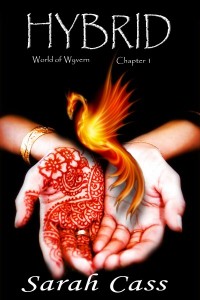 The prompt this week was Chocolate.
I have created a cover for it…see?  I have my reasons for the cover, and for saying that I'm unsure how long this story will continue through Tuesday Tales. Thoughts and plans are brewing, but until I'm set in what I want to do, Hybrid and Jyoti and Jdyne will stick around for a couple more weeks.
Remember, this is a meme with many contributing authors, so make sure to click the link at the bottom of the image to take you to see more!
Anyhow, as always this is un-edited mostly, so forgive any errors. :
"If I'm to speak before the assembly I should change. These human clothes are already too small." I held out my arms to demonstrate the way the sleeves now only hit three-quarter length when they'd hit my wrists earlier. Of course, I wouldn't mention the chocolate kiss melting in the pocket of my jeans in this heat.

"We'll return to the castle so you might change. Will you be dressed as a warrior?"

"Testing me, Father? Of course I won't dress as a warrior. They'll think me hostile and side with Alatus more firmly before I ever open my mouth." I set my hands on my hips and frowned. "What about the family? My appearance is already altering, if I go back to them."

"You forget what powers I have, child.  You'll be restored if that's what you wish. If you think it's safe for them."

"I guess we'll find out soon enough." With a sigh, I lifted my arms and gave a great stretch. I grew taller, but more impressively, flames travelled along my arms to add to the decorations. I could feel the same sensation crawl along the flesh of my face.

Jdyne diverted his eyes as the transformation took place and the human clothes burned away. "I wasn't aware that's what you meant by change, child."

My eyes closed and I let the fire take over until it had replaced my clothes in the form of an almost living dress. It ebbed and flowed when I walked, draped to cover what humans found indecent, and slipped along my flesh like a second skin, which it was. "Did you not tell them the truth, father?"

"They don't know about it. No one but Addrannyn knew of the phoenix. Only five other hybrids had the birds influence before he figured out how to create eggs without the birds influence and brought in enough helpers to make more hybrids, so I didn't think it was necessary." Jdyne shook his head and the last of the human illusion shivered away to reveal his fully scaled self.  Now on all fours, his head swung to face me. The voice carried the same, but rang through my head instead of my ears. "Some secrets were meant to keep you safe."

"All the secrets in the world failed to keep m safe. They did the opposite. It's time for truth, Father." I slipped my hand along his nose, then through he comb atop his head. The rough scales scratched my flesh, but by the time I lifted my hand, they wounds had healed. "Shall we fly?"

The long elegant head dipped in a bow. After a momentary crouch, he took off into the air. Long silver wings unfurled and he offered a long call to the heavens. It echoed around the countryside and calls of all kinds were returned.

I couldn't stop my grin as the king took his place in the sky, his scales and wings reflecting the glory of our two suns in an almost blinding display.

After several minutes of enjoying the sight, I spread my arms.  The flames spread to reflect my arms and formed into long elegant wings.  For the first time in fifteen years I crouched and took off into the air, letting the wind almost blind me as I raced higher than my father.

I let out a call like his, more high pitched, similar to the bird, while still all dragon. Familiar calls of welcome were returned and I chuckled, dropping down to fly next to Jdyne.

His silver eye blinked at me before he flew toward our castle. Once again his voice entered my head. "You have never flown these skies with the wings of a phoenix. You've always clung to the dragon. Are you sure you want to do this?"

"The time for lies and secrets is over." I repeated. "I am all of these things, and will not hide it any longer. Alatus will have his war if he is determined enough. I prefer he do it with the full knowledge in the open."

"You'll test the limits of the Assembly's tolerance."

"I always have, Father."
*~*
Hope you enjoyed it!  Click on the Tuesday Tales badge to see more excellent entries!!

*~*