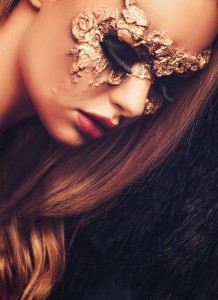 Welcome back to Tuesday Tales!  This weeks prompt is flavor. 
I have been out of the loop for a while. I'm super wrapped up in a few stories, and working on goals and real life is just absolutely insane.
Still, I wanted to try to do something different for TT, something that took me away from my crazy deadlines and being knee-deep in certain worlds. Something that took me to a new place.
And so, I have finally begun working on a short-story series/antho that I've had in my mind for a while, without a set plot or destination. Now I do, and it will be a foray into the realm of fantasy (possibly erotic, it's leaning that way). The series will be called Masked. For a while I will be exclusively working on it in Tuesday Tales, jumping possibly from story to story, character to character depending on the prompt and the inspirational image.
This weeks entry belongs to Elora. She is a recluse living deep in the woods in the shadow of the castle with her companion, Sabra (a giant feline that looks akin to a Caucasian Ovcharka, except it's feline, of course). She only emerges into public once a year for the masquerade ball:
Elora walked along the long line of her prapple tree grove, examining each tree as she passed. The sweet fruit filled the trees to almost bursting. Many in the kingdom longed for the secret behind her own specially created fruit, but it was a secret, and a crop, she kept as well-hidden as all of her secrets.

She turned her gaze toward the castle on the hill, where she imagined the princess was looking down on her. Their connection had been denied for so long, she no longer felt it as she once had. Instead, she'd bonded with her land, and with her familiar, Sabra. In fact, with their connection so weakened Elora doubted the princess could even see Elora's land any longer, hidden under spells and camouflage as it was.

Elora reached toward a fruit on the last tree in the row and plucked the delicate prapple from the branch. As she examined the marbled green and red skin, Sabra came around the side of the cottage. Sabra was a rare breed indeed, much like the prapples.

The large feline came up to Elora's shoulders, her fur was fluffy and thick. Only the long ears, golden almond-shaped eyes, and narrow, sloping nose read as feline. Filema's were, in the wild, a savage and brutal creature, now hunted to near extinction.

Elora had no fear of Sabra, for they'd bonded when Sabra was quite young, and Elora could hope for no better protector. She glanced at Sabra and smiled. "Well, my friend. Do I dare try?"

Sabra tilted her head, one furry brow lifted as she focused on the fruit in Elora's hand.

"I've already plucked it, so I may as well try, I think." Elora lifted the fruit to her mouth and took a bite. The juices slid along her chin, and the flesh burst and melted in her mouth. The sweet, rich flavor rolled along her tastebuds.

She smiled as she wiped her chin with the edge of her cape sleeve. "Almost perfect, Sabra. In another day we will be able to lie out the baskets and shake the trees."

Sabra kneaded her forepaws into the crowd, a rumbling purr filling the grove.

"Then it will be time for market." Elora grasped the edge of her hood in a bout of nerves. "I wonder who the princess will send to manage our goods this year."

As capable as Elora was with magic, there was no magic that could disguise the human form, or alter it in any way. She would never be able to go into the public market, to see another soul, save for one night a year.

One night that was fast approaching.

Elora took another bite of her prapple, checking to make sure no seeds had snuck into the crop. As a way to keep everyone buying her fruit and helping supply her with the necessities she needed, she made sure the fruit was seedless. Between that and her well-warded lands, no one else would be able to create the same fruit.

As she walked, Sabra followed suit, her tall ears flickering constantly for signs of intrusion. Even so, one of her large gold eyes stayed on the fruit in Elora's hand. Elora chuckled and tossed the rest at the cat. "Enjoy, you beast."

Sabra caught it easily, but froze. One ear flicked and she tilted her head to the sky.

Elora took her lead and turned her head toward the tall-topped trees above. One leaf caught in the wind, floating and fluttering about. It wove a trail through the open air around her home, until it swayed on downward.

She lifted her hand and the wayward leaf landed in her hand. When she lowered her hand, she discovered the leaf was shimmering gold in color. "Oh, Sabra, do you know what this is?"

Sabra crunched her fruit and offered nothing more than a sniff.

"The first leaf of the season change. That means it will be soon. The masquerade." She turned back toward the castle, excitement stirred in her belly.

The masquerade was the one day every year she could emerge from her isolation. When her defect didn't make her stand out, in fact it allowed her to view the world as she was meant to for one single night.

She lifted her hands and ran her fingers along the ridges of flesh surrounding her eyes like a mask the wealthy would pay a mint for. The thick eyelashes like the fur of her companion and black rimmed eyes that ladies of leisure tried to mimic with coal on the night of the masquerade.

With the first golden leaf fallen, soon would come the reds, and then the oranges. When all the trees burned orange like the setting suns, the masquerade would come.

And she would be ready for it this year unlike any other. For this year she was twenty one. This would have been her year to become what she was meant to be. For one night, she would be what was taken from her.

And she would live as never before.
*~*
Hope you enjoyed it!  Click on the Tuesday Tales badge to see more excellent entries!!