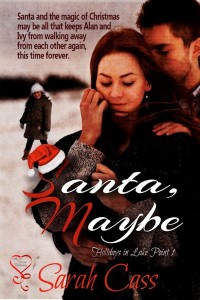 The prompt this week is Glass.
I'm afraid I had to set aside Deep Fried Sweethearts to work on revisions of Santa, Maybe – they're due to the editor soon, so this was my last chance to add new words.  Don't worry, there's a familiar face or two in this scene 😉
You never did get to see much of Santa, Maybe, as it was written before I knew there'd be a series, and I was working on another story through TT at the time.  Ivy and Alan are the H/h. They are high school sweethearts that left Lake Point together…but ambition and goals pulled them apart many times. They have always loved each other and wanted the absolute best for the other person, which led to them stepping aside to let the other succeed.  When this story starts, they hadn't seen each other for 8 years – their longest ever separation.
As always this is un-edited mostly, so forgive any errors:
"The nerve of that asshole." Ivy paced the small office.

Behind the desk her friend Eve didn't bother to stop grinning.  Eve was a beautiful blond with a body Ivy would kill for with its curves, but Eve was too self-conscious and self-deprecating to ever agree. If she did, maybe she'd actually hook up with her boss and best friend, Jake. "You are so in love."

"I was. Now I'm pissed."

"Fine line, so they say." Eve gathered her purse and rose. "So explain to me again why you never told him about Justina or Justin?"

"He knew I was sort of dating Justin. I just never told him what we were really doing or planning. You should have seen him." Ivy sighed and leaned against the door frame while Eve donned her coat. "He'd just received that promotion, he was one step away from partner and so proud of himself for achieving a goal two years ahead of time."

"Him and his damn spreadsheets and plans." Eve snorted and flipped her long waves out from under her coat. "I swear he had your life planned down to the second when you both took off out of town without ever looking back."

A familiar twinge hit her heart and Ivy shook her head. "No. Not quite that exact then. We both had goals, but his plans were looser and allowed for extraneous details."

"Like marriage?"

"I thought. Maybe. Once." Ivy pushed open the door and welcomed the shock of cold air that froze any burning hint of rising tears. "Where to?"

"You need a junk food binge with all of this drama. Where do you think?"

"The Midway." Ivy grinned and laced her arm through Eve's. "You're right. I so rarely indulge, but it sounds perfect right now. Just tell me you have the antacids."

"I never leave home without them." Eve chuckled. "So what are you going to do?"

"Same thing I always do. Alan won't stick around long, he'll take his first excuse and head out of here like a rocket back to the city. Then life can return to normal."

"Life hasn't been normal since you left the city." Eve held up her hands in defense when Ivy spun on her. "It's been good, but it hasn't been normal."

The words stung more than Ivy cared to admit, because that would mean they were true. She'd never been in love with Justin, and he'd not been in love with her. They'd both known it when they'd gone down the path they'd chosen. That was just it, though, it was their choice. She'd always loved Alan, but he succeeded so much further with his goals when she wasn't in his way.

Eve pushed open the door to the Midway and the bright yellow walls and the ping of the skee-ball machine interrupted the morose tone that had descended on the conversation. Instantly Ivy brightened up. Eve was grinning right along with her. "Can't help but be happy in this place. Hey Mikey!"

Michaela O'Keefe, the stereotypically red-haired owner of the fair-themed restaurant smiled at them both. "Eve, Ivy. It's great to see you in here. Normally you never come without Justina tagging along."

"I'm the one dragging her along. She needed the junk food far more than I do." Eve patted her ass before she leaned in. "Alan's back."

"He's not back," Ivy protested. "Not really. He's just visiting."

Mikey went slack-jawed for a moment before she recovered. "Oh dear. Let me guess, Philly steak, no peppers?"

"Please. And a huge order of fries." Ivy nodded. "I need them today."

"Same for me, but I'll take the peppers she doesn't want." Eve frowned. "I'd ask you to join us, but you look swamped and stressed. Why don't you hire an assistant manager already?"

"I haven't even had time to place the ad. I've asked some of my older employees, but they all want to stay part time. I just don't have time to search." Michaela rang them up and called back their order before she sighed. "Once the holiday rush is over I'll place an ad."

"You need someone now. When was your last day off?" Ivy glanced around the packed restaurant. "You're only closed on the holidays."

"So I was just off on Thanksgiving. I'm fine, really." Michaela handed them a balloon with their order number on it. "I like keeping busy. It's better than the alternative."

Ivy took the balloon and followed Eve to a table where she dropped the weighted sack holding the balloon down onto the floor.  Once she sat, the balloon bobbed just above their heads. She pulled out a few napkins and laid them across her lap, and then leaned on the table.

"She does kind of look like him, you know." Eve slurped her water up through her straw, one eyebrow curved up like she dared Ivy to object. "If someone didn't know better and looked for him, they'd see him in her."

"I know." Ivy's shoulders dropped as she released the tension. "The fate of genetics gave her just enough of Justin that she would favor Alan. Justin used to tease me that the only reason I gave him a second look was because of his similarity to Alan."

"Didn't you guys used to double date with Justin and…"

"Julie. Yes." Ivy pulsed her straw through her water. "Until Julie went to San Francisco. Alan and I were still on again, off again, at that point. Alan and Justin used to try to tell people they were fraternal twins."

"So it was an honest mistake."

"That accused me of being a horrible bitch that would keep a child from Alan." Ivy shoved her glass away and sank down in her chair. While Eve was one of the few people that knew, and believed, the whole story, she still didn't know everything. "I made a choice, but if it had been his child I never would have kept it from him. Justina could have been his, I was so full of hormones, we are so lucky the condom was sound."

Eve giggled when a few heads turned their way. "You said that a little loud."

"Oops." Ivy laughed, relaxing more as Eve started to lose control of her laughter. Soon enough Ivy joined in and by the time the food arrived she happily changed the subject.
*~*
Hope you enjoyed it!  Click on the Tuesday Tales badge to see more excellent entries!!

*~*