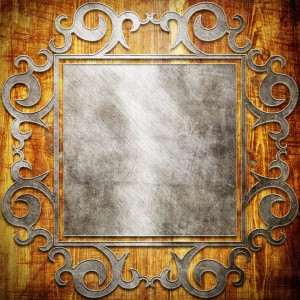 Welcome back to Tuesday Tales!  This weeks prompt is to be inspired by  that picture.
I interpreted the image as a mirror…and although it doesn't match the mirror I have in my head for my Urban Fantasy/Fractured Fairy Tale/Steampunk story "Into a Mirror Darkly", I used it for that anyhow.
Red (aka Red Riding Hood/Rose Red) is my badass bounty hunter.  Solange is not the fairy tale character you'd expect her to be…she is Beauty, i.e. Solange LaBelle. And this moment happens…oh, mid-story. This is a tale I have been working on on-and-off for a little over a year. I want it to be right & have my full attention so I've not been able to focus on it yet. I have two (smaller) stories to finish and send off for edits, then this baby is coming out to shine again:
It couldn't be. The Crone had seen to the destruction of nearly all the mirrors in Morgana years ago. So far as Red knew only bits and shards still existed across the lands. While she herself had shards on her person, she'd not seen a full, true mirror in many years. Not since Morgana became a virtual wasteland.

"I found it in the dungeons." Solange spoke in a hushed voice, and in an eerie tableau the scarred half of her body lingered in shadow. Light from her lantern shimmered and reflected off the mirror. In the half-light her good eye glowed almost as white as her dead eye. "I don't know what the beast used it for, but in the few glimpses I've got it almost seems like you could spy on others with it."

"It carries a lot of power." Red drew closer, but avoided touching the reflective pane. Gran had taught her well enough to know to avoid strange mirrors. The magic was untrustworthy if it hadn't your energy within. Red circled to face the mirror dead on.

In the reflection she noticed Cassandra, Solange's golden clockwork cat. The infernal creation affected a false purr, the rolling links of its tail curling back in forth in a steady motion along the dirt floor of the dungeon.

Red hazarded a glance toward Solange. Unease rippled through Red's belly and she set a hand on the dagger at her side. A movement in the mirror drew her eyes back. A shadow passed just on the other side of the glass, she was certain of it.

Solange flicked her hand.

The cat leaped, and while Red reacted quick enough to defend herself, Cassandra managed to throw her off-balance. Red tumbled toward the mirror, and the world swirled around her as she fell down, down, down …
*~*
Hope you enjoyed it!  Click on the Tuesday Tales badge to see more excellent entries!!