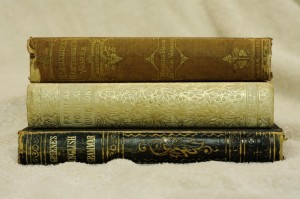 The prompt this week was Library.
I'm heading back to Lake Point again this week.  This time I'm giving you a sample of Eve's New Year.
As always this is un-edited mostly, so forgive any errors. :
"What were you thinking?" Eve's bright smile faded. She opened the next box, and then another.  The boxes laid out throughout her office were each filled with books. "There's enough here to fill a library."

"A private one, maybe." Jake tried not to let his disappointment show. He thought she'd be excited by his purchase.

"No one in this town has a need to stock an entire library. Who's going to catalog these anyway? I told you, Jake. My last day is in one week. I have enough to do without adding in cataloging a library full of books."

"You don't understand." He took the box lid she held in her hands and slid it back in place on the box.  "These aren't for the shop."

"Then what are they doing in my office?"

"I got them for you."

Her bright blue eyes got wide and the flush of anger faded away. "What?"

"You always gush over the book listings." He heaved the box off her desk and set it on top of a nearby stack. This was not going the way he'd planned at all. "I know you like old books, I've heard you talk about how you dreamed of having a library full."

"You heard me?"

"Of course I heard you. You're my best friend."

"Right." Her voice cracked again. It had been doing that a lot lately. "Best friend."

"I hate that you're leaving. I just wanted to do something for you."

"God you're such an ass."

"What?" He spun around, but she wasn't facing him. "I was trying to be nice."

"Well I don't need you to try so hard anymore." She kept her back to him. "I don't need to be your charity case in the name of friendship any longer."

"Charity case?" Jake couldn't believe what he was hearing. "What the hell?"

"My gallant defender, forcing his good buddies not to pick on the fat girl, the four eyes, the nerd that just happened to live next door to you. I'm a big girl now." The words remained strong even if her voice was still weak. "And I'm not interested in feeding your need to be a savior."

"Eve."

"Just get out. I have work to do if I'm going to be out of here in a week."

Pain ripped through his heart. "So you aren't just quitting this job, are you?"

"No. I'm quitting you."
*~*
Hope you enjoyed it!  Click on the Tuesday Tales badge to see more excellent entries!!

*~*