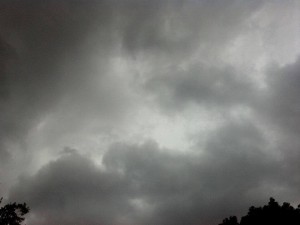 Welcome back to Tuesday Tales!  This weeks prompt is to be inspired by this picture. The hardest part about picture prompts is always the 300 word limit. I did have another post all ready to go, but it was 1200 words and that would have gotten me in trouble 😉
This week I return to that historical paranormal I was working on a while back, Natural Selection. In our last segment some months back, Leilyn told Dell he'd better figure out what she meant after she'd berated him for allowing is father to use her as a pawn to draw in her pack–especially when Dell has a way to wipe away her old pack's claim.
Now we join them again…and let's see how Dell is coping with this:
Leilyn lay in the field behind Olive's home. In twelve hours her 'uncle' would be there with the pack, no doubt ready for attack. The field around her sat oddly silent, not filled with children playing as it had been in the days since she'd arrived.

In the sky above her the first curling mass of storm clouds began to twist and turn in chaotic, senseless dips and turns. The sensation was oddly similar to her current emotional state.

While her head and perhaps a base instinct told her she was where she belonged, the itching burn on her ankle tugged her in another direction. Plus, she hadn't been treated poorly all her life, she'd been treated with care and almost esteem. It wasn't until her uncle tried to force an unnatural mating that she'd run.

Now, there was Dell.

He stirred within her a base instinct. One she'd been kept from acting on. One that drew her to him. One that told her he approached.

She smiled and closed her eyes, wondering what he'd attempt this time. For the past day he'd been attempting to woo her like a school girl. Flowers and treats, small tokens meant to show affection.

"Afternoon, Dell." She opened her eyes.

He quirked a brow, but said nothing.

"What have you brought me this time?"

"Nothing." Perhaps he was finally getting the point. Still, though she waited several minutes, he didn't move an inch.

With a sigh, she propped herself on her elbows and turned her gaze away. Right when she was ready to tease his lack of imagination, he dropped to his knees behind her and grabbed her shoulders.

His nose brushed along her bare neck, and he sighed out a growl. "Duty keeps me from claiming you. Not ineptitude."

"Duty is overrated."
*~*
Hope you enjoyed it!  Click on the Tuesday Tales badge to see more excellent entries!!

*~*