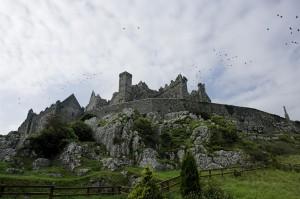 Welcome back to Tuesday Tales!  This weeks prompt is to be inspired by the word Sea.
Well, The Wolf is done, and while I must work on Witch Way, this weeks word prompt just didn't fit. It also didn't fit into Natural Selection. So this week I'm starting a new story. I believe it'll be fantasy, but I haven't figured it out completely yet.
I was inspired in part by our word this week, Sea…but also by this image on Pinterest, which I could not use b/c I don't have permission to do so…but please go check out what Aingael looks like HERE.
So here is the start of a new, as yet unnamed, story. Queen Aingael Fluerette Taverna was born and raised the Princess of Lyach. At the proper age she wed Gunnar, the prince of a neighboring country, and became Queen. It is not a match made in heaven…and two years ago she learned of a plot:
Clamoring tones of bells across the kingdom coalesced into a jilting melody of parting. From her position on the parapet overlooking the sea Aingael ran her fingers along the string of bells lining the stone's edge.

Against the rising sun the entire fleet of the kingdom of Lyach moved further away. The chiming of bells were to wish the men luck on their journey, but Aingael knew the truth, their departure meant the end of her kingdom as it was.

A pact made in secret she was never meant to be privy to, but being Queen did have its privileges, as did being raised in the castle. She knew every hidden nook and cranny, even those her husband, King Gunnar, thought only he knew.

He'd made a pact in blood two years prior, one she'd taken steps to ensure would not succeed. Gunnar thought he left her undefended, only old men and boys to protect their inlet kingdom from the oncoming attack.

Aingael turned to her lady in waiting as the sun rose too high for her to safely stare into. "Cherette. Help me remove these garish clothes. We haven't much time."

As soon as Aingael sat on a stool, Cherette set to work. Her handmaiden pulled her blond locks free of their bindings and carefully removed the gold and jewel headdress. Once it was set aside they carefully removed the garish diamond adorned gown Gunnar insisted she wear to display wealth the kingdom did not have.

In its place Aingael donned a simple black blouse and pants over which she could place her armor without problem. She handed off the gown and headdress to Cherette.

Cherette placed them in an iron trunk they'd had made for this purpose. She carefully placed the dress on top of the rest of the jeweled gowns and headdresses. "I will have Shane put these on the carts, miss."

"It's Aingael now, Cherette. As my husband sold all of our heads to the highest bidder, we are now all in this together." Aingael set her hands on Cherette's shoulders. "I am no longer Queen. I am with my people."

"Aye, but you always have been, Miss." Cherette bowed.

Aingael kissed her on the forehead. "Now go. Get Shane and go out with him to the warded sector. I wish you as safe as these jewels. Remember where I asked you to hide them."

"In the recesses of Croche valley, under the village square. I shall guard them with my life."

"You'll guard yourself. If the past two years have been worth it, hopefully you'll not have any need to guard a thing."

"Are the woman prepared for the sort of battle you are expecting? It will be a battle against men, savage men."

"Aye. Savage and unfeeling.  The Cairn are raised for war, but they are not defending their home." Aingael glanced toward the sea. "And I must pray to the Goddess that they are not prepared for the way a woman fights. They are under the impression that we aren't prepared for their attack, that they will be able to come in and destroy."

"By Her grace your preparations will not be for naught, my lady."

"By Her grace, Cherette, we will survive."
*~*
Hope you enjoyed it!  Click on the Tuesday Tales badge to see more excellent entries!!

*~*