I'm a week late this month…last week was craziness and I didn't realize I'd forgotten until Wednesday was said and done…so here's my March report a week late!!
I went a little crazy in March again. Apparently I'm on a crazy reading roll…with my office complete I'm hoping to slow down on the reading and speed up on the writing…but we'll see what happens.
For March I read 26 books. Many graphic novels helped boost this number…but I'm still impressed with myself.  This month I made a concerted effort to read some books from my exceptionally long netgalley list and some books I got for free in exchange for reviews (ASAP reviews, I need to get finished with two more…eep, back to reading soon!!).
For the third month in a row, I will attempt to keep this concise…no promises, but I'll try.
What I've Read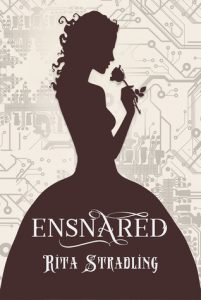 Ensnared
Wow.
First off…I got this book free from netgalley. All opinions are my own. This book does not release until December, so it's a super-early release.
Now…let me just say…wow.
I'm a huge fan of the Beauty & the Beast tale (don't get me started on the new live-action movie…I'll talk your ear off)…and this was just amazing. A near-future retelling where robots have achieved an almost-human ability. This retelling sucked me in and had me upset to have to put it down (at 1am) because I had to sleep. Totally awesome, among my top reads of the month.
I got this one in exchange for an honest review. Releases 4/22
Holy cliffhanger, batman!!
This book left me with a hell of a cliffhanger. Let me tell you, as an author I LOVE cliffhangers…as a reader, no so much. 😉
This is a YA paranormal with an interesting twist on what the abilities are…and leaves you with some unanswered questions as to what everyone is in the end…questions that won't be answered until the next book.
For the most part, I really enjoyed the book.  My biggest complaint was the insta-love (partially explained by the paranormal aspect) and the fact I kept wanting to scream at my Kindle "They are SOPHOMORES!!!! FIFTEEN and SIXTEEN!!  For crying out loud!"  Also, the quick resolution to the home-life aspect was a little to perfect and quick.
Still, it was a fun, quick read with an unusual paranormal twist.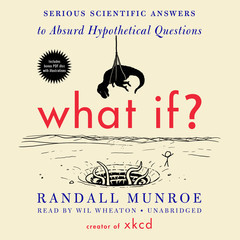 What If?: Serious Scientific Answers to Absurd Hypothetical Questions
Audiobook version – read by none other than Wil Wheaton.
Honestly, I don't think I would have enjoyed this is print form.  In audiobook, as read by Wil Wheaton? So.Much.Fun.  Wil Wheaton had the exact right amount of sarcasm and hilarity in his tone to convey many of these answers.  It was fun, sort of random, and a different sort of book than I normally would have picked up if I hadn't seen who the narrator was.
And yes…in case there was any doubt…the title does not lie. Many of the questions were crazy-absurd…and oddly random…but the serious answers to them were definitely interesting (and sometimes just as weird).
This was a (very large) graphic novel…probably the longest I've read yet. Recommended by someone in my book club, I picked it up at the local library, only marginally intimidated by its size.
I ended up being grateful for the recommendation. The artwork was done all in blue tones, and was realistic enough without being too real for the tone of the book. The blues also portrayed the tone of the story quite well.  I was swept up in the slightly dark, paranormal, quirky story pretty quickly. The story tugged at my emotions, and did not have a happy ending.  My biggest complaint in the whole thing was that I guessed a key tragic aspect before it happened and was mad that the MC didn't listen to what was being said to him.
This one is definitely worth a read. I kept thinking about it for days afterward, which is always a good sign.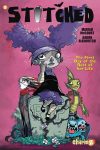 Stitched
A fun little graphic novel I got free via netgalley. Not publishing until 5/2/17.
Cute, sort of creepy, and fun. I really enjoyed this little GN and plan to buy it for my youngest, who enjoys creepier things.  No, it's not scary…but the whole thing is set in a graveyard and it has some classic monsters (not-scary) in it.  Ghosts, werewolves, vampires and swamp monsters dot the colorful pages. I look forward to seeing what my youngest thinks when she reads it.
This one I picked up on recommendation & because of my challenge list (which I have since completely abandoned in all of my reading craziness). A collection of short stories, this one had its ups and downs for me. Some stories I really loved, others were either too strange or too dark for me.
Overall, worth the read, not sure I'd buy it for myself.
Netgalley pickup for research – again, personal and writing related. I actually have a handful of books for that purpose on netgalley, but I just picked this one to go first.
I wanted to like it and glean some good information from it…but found it so long-winded that I grew bored (my typical complaint about non-fiction books). Unfortunately, it held true for the next couple of books I started to read along this line…until I got a winner (shown below in my currently reading).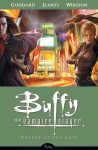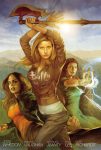 Buffy The Vampire Slayer Season 8 Graphic Novels (1-3)
On recommendation from my bestie…I ordered all of these through the library system.
So far I've only read 1-3, and I'm still up in the air over whether or not I like them.  There's some stuff I really like…and stuff I really don't at all.  A total mixed bag, but I plan on seeing them through at least to the end of the 'season'…seeing as I have them all here. 😉
Another recommendation by book club. I knew next to nothing going into it…except the recommendation I got.
It was…okay. I don't get the crazy hype around it, but it probably just wasn't my cup of tea. I probably won't continue on with any of them further than this. We'll see if I change my mind later. For now, it didn't hold me enough to get me eager for more. It wasn't bad…just…eh.
Honorable Mentions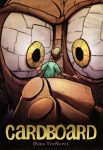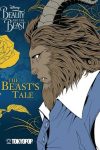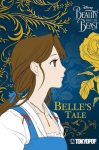 Several books are worth a mention…others…well, aren't.
Disney's Beauty and the Beast, Beauty's Tale & Beast's Tale…Manga style. Cute, quick, fun little read that shows just a wee bit more into the minds of Belle and Beast from the live version of B&tB.  Nice accompaniment to watching the live-action movies. (netgalley reads.)
Cardboard. A recommendation from BOTH of my daughters. A little longer graphic novel, with a fun storyline. Read it in one sitting. Fun, and glad my girls feel they can recommend books to me.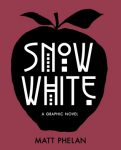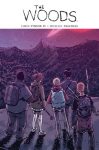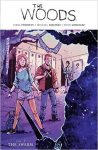 Snow White Graphic Novel – A retelling of the classic fairy tale set in the 1920's. I found this take quite charming.
The Woods Vol.1 & Vol. 2 – An entire high school, its students and faculty, are transported to a strange and deadly world by unknown forces. The way the students and staff struggle to figure out what's going on & how to survive…how some show some very dark true colors, and others show bravery.  They find some weird things, and people, in this place. I still don't know if I liked it or not, or if I'll read more. I'm curious to know what else is going on…but enough to order more to the library? ~shrug~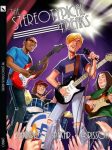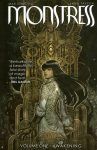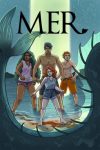 Mer – (via netgalley) – a dark mermaid/merman tale, set in high school. This one was…different. Not my favorite, but not horrible.
Monstress – Spotted it on Amazon one day, requested it from the library based on the cover alone. Dark, unique, mildly disturbing. Curious – but maybe not enough to read more? Not sure.
Stereotypical Freaks – Another free from netgalley. I really enjoyed this one. Slow start, and totally went a way I didn't expect at all. It was touching, and fun.  I am continuing the series (the next two of which I also got from netgalley).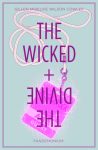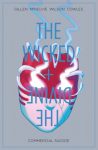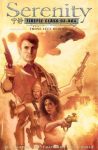 The Wicked and the Divine vol. 2 (Fandemonium) & vol. 3 (Commercial Suicide) – I really enjoyed the first book last month, though I found it odd…so I went for 2. Fandemonium was great…so I went for 3, even though I'd seen some not-so-great reviews of it…and now that I've read it I see why many people said it killed their enjoyment of the series and why they say "Commercial Suicide" is an apt title. I belive the original artist is back for 4 so I may try to get that one…but then again, maybe not. Commercial Suicide did not leave me with a good taste in my mouth for the series.
Serenity – Those Left Behind. another rec from the bestie. Really enjoyed it and hope to read more once I thin out my to-read list some more.
What I'm Reading Now
An impulse grab from the library based on some positive feedback I'd seen on the interwebs. Separated into several books, and so big it comes with its own bookmark…this one is probably going to take me a bit to read (and some renewals at the library). It took me about 100 pages to be fully invested and to FINALLY be rewarded with the heroine becoming what she needs to be…but now I'm all in. It's just a hefty read and I'm going to need more time.
That said…based on the first "book" in the book…I'd say go for it if it's on your list. The heroine is likable, if somewhat naive, and the people that cross her path are interesting, and the dangers and challenges she faces can get your pulse racing.
I started this book years ago when I bought it for my nook after some recommendations. Because my nook is an ancient first model and batteyr doesn't last long, this is among the handful of books on that device I never finished.
I have picked it up from the library (and my hubby just gave me his newer nook to use)…AND I got to select the challenge for this month's book club challenge…to which I picked "A book you started, but never finished".  As I've said before, I'm not big on zombie-ness…but so far this book has less zombies and more facts.  Unfortunately, I didn't realize how incredibly long this was when I decided to try again…so I'm trying, but oof, despite my initial excitement to get back into it…this one is not making me too eager to keep on keeping on with it.
(Free via netgalley)
Meant to be read like your buddy is just carrying on a conversation with you about tarot, this one is what it promises.  I love the authors voice and frank explanations. I think this, like the next book has been, will remain on my "currently reading" list for a while as I digest all it has to teach. I really want to get this one in print to keep on my shelf for regular referencing.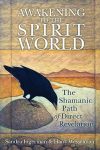 Awakening to the Spirit World: The Shamanic Path of Direct Revelation
Loooong title on this one…eesh.  Anyhow, I took this one out from the library for some dual research (writing related & personal related)…when I found myself wanting to make actual highlights in the book, I bought it off of Amazon. This will be an ongoing read for a couple of months, I think…but I'm learning a lot. For person that claims to not like non-fiction, I'm finding myself reading a lot of it lately.
Anyhow, expect to see this one on the list for a couple of months, probably 😉
Someone in my FB feed posted about finding their child bawling, and the child proceeded to show them this book and told them to read it.  On our very next visit to the library I saw the book sitting on the shelf. Figuring it was serendipity, I picked it up.
Only one chapter in, distracted by office remodel, so no thoughts yet.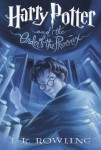 Harry Potter & the Order of the Phoenix
Yup, this one is STILL here. Kennedy keeps asking to read and I keep being distracted by things to do, and rooms to redecorate, and the book's in my bedroom and hubby is already asleep, and more and more and more…
REALLY hope to finish this before the end of May. I'm going out of two for two weeks in two weeks or I'd say before the end of April.  Goals. I got 'em.
Grabbed this one in a 'free for review offer'.  So far it's catchy, but I have no distinct thoughts on it.  I like the world, I like the MC, and several of those around her.  I'm truly curious about the event I just read…but again, time is tight these days. Hope to finish this one this coming week as I have another 'free for review' out there…and not much time before they're published.
What I'm Reading Next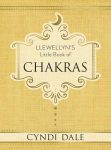 Llewellyn's Little Book of Chakras
Considering "little book" is in the title, hoping this is a quick, informative read.
Yup, another free from netgalley as well.  I have a lot of GN's and Llewellyn books from there (and many many others)
Another in my free for review pile I gathered this month. Need to finish it before the end of the month, if I can finish Vengeance Be Mine first.
Going in blind….based on cover alone. I have a tendency to do that, it seems.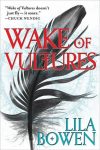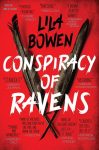 Wake of Vultures & Conspiracy of Ravens
Honestly, I'm sort of already started on WOV – which is a total re-read for me so that I can read book 2, Conspiracy of Ravens.
I really enjoyed the first book first time around, and I've enjoyed what I've re-read so far. Makes me excited to get moving on it…damn elusive thing called time. So much to do and nowhere near enough time to do it all in. Oy.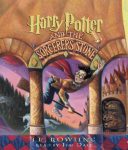 Harry Potter & The Sorcerer's Stone (Audiobook)
This sucker had a LOOOOONG waiting list at the library (all of them do), but I've heard fantabulous things about the audibook versions of these books…and I should have this one soon (I hope).
Really excited to have the HP books come alive for me in a different way than they have before.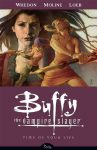 Buffy the Vampire Slayer, Season 8 vol. 4
Next on the list…it's got dark and scary Willow on the cover, so curious to see what happens here.
*
*
*~*
Phew….I know, that was long. By far my longest book post yet this year. So many good things, eh things, and fun things to write about in the reading universe I'm in right now. 😀
I also have a ton of my OWN books that I need to get started on. Someone, please take away my library card so maybe I'll focus on those books for a change?
You know what, don't…you might send me into a panic attack. lol