February turned into another big reading month for me.  In this case it was mostly audiobooks and graphic novels (as I learned to dip my toe into those). This month I'm trying to get back into some full length books even as I continue on with some graphic novels.
Once again, with so many read, I'll try to be concise.
What I've Read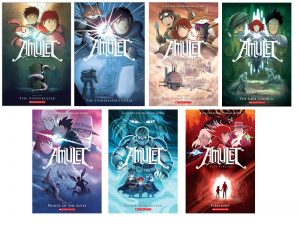 The Amulet Series (7 Graphic Novels)

This series was a big hit in this house this month. Both of my tween girls and I scarfed them down and are lamenting the fact that book 8 doesn't release until 2018. If I'd known it was an unfinished series I might have tried to hold off somehow. It was a very fun, active, and creative series. Twists and turns kept you captivated, and each book was easily read in a day. This definitely made me appreciate the GN genre a little more. Between this and Through the Woods (see below), I found myself hooked and seeking out more graphic novels.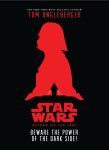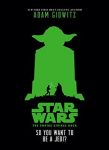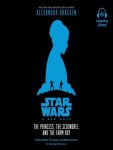 Star Wars: The Illustrated Novels Series (audiobooks)
It seems a little counterintuitive to read "illustrated novels" via audiobook, but to be honest I missed that "illustrated" part when I was glancing over titles.  Plus, the narrators on this series were spectacular. I am so glad I picked them up.  The least favorite of the three was "So you want to be a Jedi" because the fourth wall was completely broken in that one and I didn't enjoy it so much. Still, the series as a whole is well worth a listen.
Wooosh. This one is killer. It's a book of poetry, but wowza…it'll knock you hard right in the feels, I kid you not. Don't let the "Young Adult" title fool you, it's a hell of a book.
Yes, I am a sucker for anything involving siamese twins…and I just jumped for joy that the famous Daisy and Violet Hilton were, in fact, mentioned in this one.
A wonderful, but totally heart wrenching read. Worth every heart-stopping moment.
Seriously, read it today. Go. Now.
*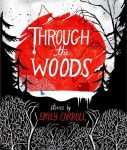 Through the Woods (Graphic Novel)
I had some issues with my first attempts at graphic novels. None of them were hitting the right chord for me, at all.
Then this gem came along. A series of short little horror stories that are certainly creepy. The illustrations are captivating and with this one little book I was hooked on GN's.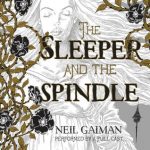 Super short in the realm of audiobooks – seriously, it was like an hour long.
I really liked the twist on the classic fairy tale. The ending wasn't what I expected, and the full cast-read was definitely enjoyable. Worth the hours time for a listen.
*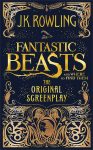 Fantastic Beasts and Where to Find Them

Finally finished this one!!  Totally loved it, of course, as I did the movie.  And yes, the movie is totally in my Amazon cart awaiting release – and we went and saw it at the cheap movies I totally forgot existed. 😉  Anyhow, I breezed through the rest of this one quickly once I realized it had been on my list and embarrassing amount of time. It is now in a treasured location with my copies of the Harry Potter series and will get a special place in my new office for sure. 🙂
Honorable Mentions
Again, seeing as I read so many books this month, I'll finish up with some honorable mentions, quick and dirty version.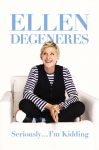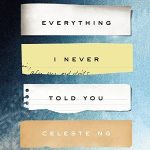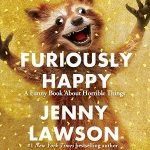 Furiously Happy (Audio) – Jenny Lawson voices her own audiobooks…and the whole book and read through of it was exactly what I expected after reading her blog for quite some time. A little bit wild, full of curse words, and tragically hilarious in some places.
Everything I Never Told You (audio) – This was just okay. I wanted it to be more than it was. Not sure if it was the audio read or the story itself. I just didn't really care by the end.
Seriously…I'm Kidding – Hey, it's Ellen…of course it was funny. I'm not big on memoirs but I've been pushing myself this year…and this was another quick one to read.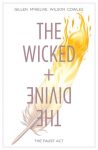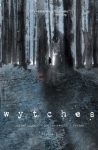 The Wicked & The Divine (Graphic Novel) – I don't know what I was really expecting on this…actually, I wasn't expecting anything. It was different, good and bad and confusing. I want to get more for the purpose of seeing what happens next.
Wytches (Graphic Novel) – Creepy as heck, strange…but totally cool. I enjoyed this quick read. Glad I picked it up on a whim as it was later recommended to me by several sources.
What I'm Reading Now
Another one for my "challenge" list (which I've sort of forgotten about in the past month in favor of reading whatever I can get my hands on. lol)…a collection of short stories.
I don't remember where I heard about this one, but I recommended it at my local library and when it came in, it was automatically loaned to me. I have no opinion on it as I am just cracking it open today. I'll let you know next month. 😉
*
*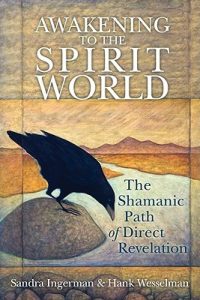 Awakening to the Spirit World: The Shamanic Path of Direct Revelation
Loooong title on this one…eesh.  Anyhow, I took this one out from the library for some dual research (writing related & personal related)…when I found myself wanting to make actual highlights in the book, I bought it off of Amazon. This will be an ongoing read for a couple of months, I think…but I'm learning a lot. For person that claims to not like non-fiction, I'm finding myself reading a lot of it lately.
Anyhow, expect to see this one on the list for a couple of months, probably 😉
*
*
This is another one that will go on the challenge list "A book you started but never finished".  I've had this sucker for YEARS on my nook.  I started reading it, even enjoyed it…only to stop for one reason or another…and as my Nook is sadly dying a very slow and painful death so that I hardly pick it up anymore, despite the number of books I have left to read on it.
Anyway, I picked it up randomly at the library today when dropping a couple other books off…and quickly found where I'd left off (surprisingly, I remembered after all these years).
Hopefully I'll actually finish it this time.
This one has been on my list for over a month…I've had to renew it twice at the library. I now have 3 weeks left and no renewals left. I have GOT to read it. It's been on almost every single "You need to read this book" list I have ever found, and when I said I was starting it, I got a lot of positive responses…
I have started and it was a slow start, but I'm starting to get into it.
The goal is to read it before it's due back. I'm sure I'll manage…I hope…maybe…
Recommended to me by someone in book club, I picked it up when I discovered my library happened to have it on hand. Haven't started it yet, but as you see I've got a lot I'm reading right now. Hope to pick it up in the next day or two and see what I think.  Fingers crossed it's another good one!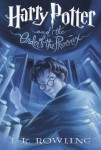 Harry Potter & the Order of the Phoenix
Yup, this one is STILL here. We've been distracted by all the things, and volleyball, and school, and my insomnia making me grumpy and headachy and not so up to reading aloud. But, we will get through this, hopefully this month. We are fully on board. 😀  As we always are. Harry Potter wins with us. 😀
What I'm Reading Next
This has been on my TBR for some time.  It happened to come available at the library and I grabbed it up. Looking forward to getting into it ASAP. I have a lot to read, but hoping to get this one read up quickly.
*
(Audiobook)  It's been a rough couple of weeks in the audiobook world for me.  I've tried several that just haven't panned out.  This is the last on the list while I wait for some that have been recommended to me (some have VERY long hold times…VERY long…been waiting over a month on a couple of them). This one seemed to sound decent in the sample and I've been wanting to read this series for a while, so I'm hoping to start it in the next couple of days.
Netgalley pickup for research – again, personal and writing related. I actually have a handful of books for that purpose on netgalley, but I just picked this one to go first.
Looking forward to getting started. Hoping it is a quick and easy read.
Okay, this is a repeat…I still haven't gotten to this either. However, "a book bought from a small, independent book store" is on my reading challenge list – and that's precisely where I got this from. So it will get read, gosh darn it. One way or t'other. If I can stop impulse checking out from the library, I will do it. I swear it.
This one is a netgalley SUPER ADVANCE copy (so advanced, there is no listing on Amazon yet…it doesn't release until December). I'm not even sure how I got it, but I'm super stoked to read it. A Beauty & The Beast retelling, it looks utterly fascinating…and the cover is just to die for. Hopefully I'll be able to get to this one soon, too.
Another impulse pickup from the library today…another that's been on my TBR for a while. Luckily with library books I tend to make sure I get to them…so here's hoping I get to it this month! I'd really like to see what the fuss is about on this one.
Another recommendation by book club. I know next to nothing about it going into it, so we'll see what we find. This and Fables (& The Sculptor listed above) are among the last handful of graphic novels I have on my current list. I have plans for more once I get through these. There are Buffy and Serenity GN's to get my hands on, after all. 😉
*
*~*
So, according to goodreads I'm at 32 books completed so far this year. With a goal of 50 for the year I think I'm well on track…I might have to bump up that goal number pretty soon. lol.
Of course, I also started writing again this week, so we'll see how the continued reading attempts go with writing thrown back into the mix.